Kylie Jenner Surprised A Rejected Fan By Going To Prom With Him
10 April 2017, 10:55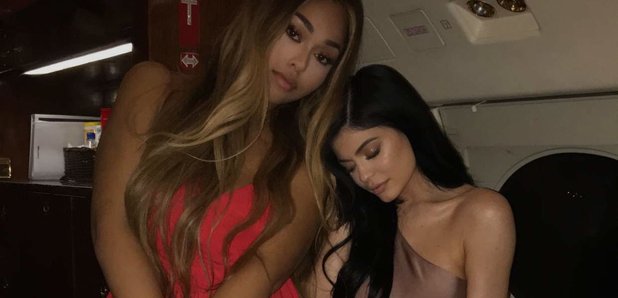 Yep, she did that.
Kylie Jenner sent some Californian high schoolers into a frenzy this weekend by rocking up to their prom.
After high school student Albert Ochoa got his first prom invite rejected, he reached out to Kylie who was more than happy to fill in as his date for the night.
Teens attending Rio Americano's prom in Sacramento couldn't believe their eyes when the social media queen rocked up on Ochoa's arm, with her best friend Jordyn Woods in tow.
Best day of my life @KylieJenner pic.twitter.com/qH0yPP3O4v

— Kennedy Pate (@kenkenpate) April 9, 2017
Jenner posted a Snapchat of the BFFs chilling inside her private jet prior to the event.
Kylie could be seen wearing a one-shouldered, satin mocha gown alongside Jordyn sporting a classic red number.
The duo also both rocked white flower corsages on their wrists in true prom style.
Kylie Jenner really did go to Rios prom WTF pic.twitter.com/kmFPux4U0y

— emerald (@emeraldclarkeee) April 9, 2017
Upon arrival, Kylie and her date Ochoa were mobbed by student who were shocked to see the reality star crashing their prom.
As usual, the makeup mogul was followed into the event by cameramen who appeared to be filming the moment for an upcoming episode of 'Keeping Up With The Kardashians'.
Many took to Twitter and Snapchat to share the news, which soon spread worldwide.
Kylie Jenner really just came to rio prom. pic.twitter.com/sZQflHt62B

— Sam Adams (@sam_adams_10) April 9, 2017
This is Kylie jenners date pic.twitter.com/DRNSrwgCc7

— Ethan Dang (@ethandang_) April 9, 2017
proud to say that's my brother pic.twitter.com/zeKj9gf8gF

— $elena Ochoa (@ssoochoa) April 9, 2017
Ochoa began to receive some serious praise from his peers and other social media users for nabbing the date of his dreams.
@albertochoa05 stayed focused and managed to get Kylie Jenner to go to prom with him... taking notes

— Mumen Rider (@DonTeast) April 9, 2017
albert at rio is a god

— ㅤㅤ (@mattcallizon)April 9, 2017
my bro @albertochoa05 is the goat

— Ryan (@RyanPXI) April 9, 2017
Y'all Albert is a sac legend now I know the guy who took kj to rio prom that makes me cool I guess? Idk https://t.co/eU8ZYE7cUj

— ILONA (@ilonachka_) April 9, 2017
We went from talking about how he couldn't get any girl but now he has THE girl. #myhero @albertochoa05

— Julian lawrence (@Babyj_law) April 9, 2017
Meanwhile, the youngest of the Kardashian-Jenner clan is rumoured have split up with long-time boyfriend Tyga.
Whilst the star is yet to respond to the news, reports claim that the pair are "currently in an off phase" of their on-and-off relationship.