Kim Kardashian Relives Her Distressing Paris Robbery In This Emotional Video - WATCH
13 March 2017, 11:52 | Updated: 13 March 2017, 13:08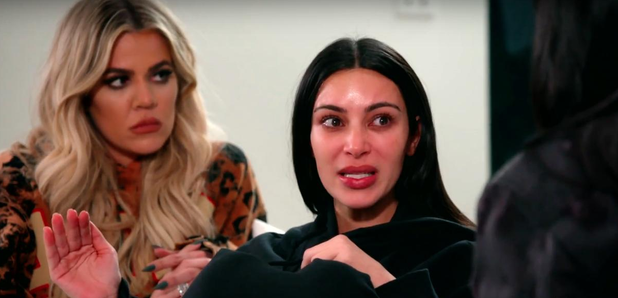 "I just knew they were going to shoot me in the head."
Kim Kardashian has opened up about her famous Paris robbery in October last year for the first time.
In a pair of new trailers for the forthcoming season of Keeping Up With The Kardashians, the reality star can be seen detailing the harrowing event to her sisters.
Kim relived the moment the robbers held a gun to her back, and how she planned on making an escape from her attackers.
"I could either run down the stairs and be shot in the back..." she said before catching her throat through tears.
Kim also addressed the camera directly as she recalled the moment the robbers cornered her and stole millions of dollars worth of jewellery from her hotel room.
"They asked for money, I said "I don't have any money."" she explains in the clip. "They dragged me out to the hallways on top of the stairs."
"He duct-taped my face and that's when I saw the gun, clear as day."
"They had the gun up to me," she continues, "And I just knew they were going to shoot me in the head."
"Please, I have a family," she said through tears as she recollected the event. "Let me live."
The upcoming series of the popular reality show is set to hit TV screens later this year.
In related news, shots were recently fired at the famous American family by none other than Danielle Bregoli, of Internet sensation 'Cash Me Outside' fame.
The family are yet to respond to Bregoli's comments, which saw her claim she planned to "whoop every Kardashian a** there is."