Khloe Kardashian slams fans trolling BFF Malika Haqq for helping ex Tristan Thompson
5 December 2019, 16:56 | Updated: 5 October 2020, 12:32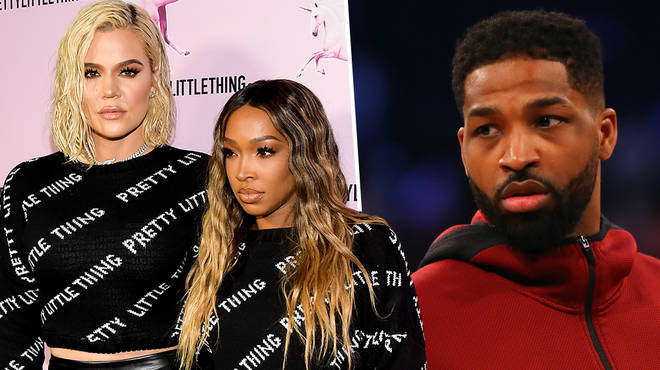 Reality TV star Khloe Kardashian has called out fans during a savage Twitter rant.
Khloe Kardashian recently took to Twitter to defend her best friend Malika Haqq, after she was accused for encouraging Khloe to get back with Tristan Thompson.
In the latest episode of Keeping Up With The Kardashian's, Tristan Thompson gave Khloe with a diamond necklace that Malika revealed that she helped him pick.
On Season 17, episode 10,  Tristan made a huge gesture to Khloe by buying her a sparkling necklace.
In the clip from E!, Malika can be heard saying "[Tristan] asked for help to surprise you with something. … He wanted to give you something, do something nice for you," Malika told Khloe.
Later on in the episode, Malika and her alleged boyfriend man O.T. Genasis spoke with the Good American business-woman and admitted that they think she and Tristan weren't fully over and Scott Disick agreed.
Many fans slammed Malika for 'encouraging' Khloe to entertain Tristan. "I think it's weird that Malika did help Tristan especially after everything that happen. And to say you know for a fact your friends would never hurt you, you don't know that. Look what happen to @Kylie and Jordyn."
However, Khloe Kardashian hit back at people who expressed their views on her and Malika's friendship here for the negative reviews of her friendship.
In now-deleted tweets, Khloe wrote "I keep seeing people criticizing my best friends. My best friends would never do anything to hurt me. I can say that with full confidence! You guys don't know the entire story. EVER!!"
There is no perfection, only beautiful versions of brokenness. —Shannon L. Alder

— Khloé (@khloekardashian) December 4, 2019
"You watch 44 minutes of an episode and really think you know it all," Khloe wrote.
The 35-year-old reality TV star added: "Stop talking about my friends. Focus on your own lives, which I'm pretty sure is NOT perfect. People love to have an opinion when they're behind a computer screen"
"I'm fine with opinions. Just make sure you live the life you so quickly judge others about." 
What do you think of Khloe's tweets ?