Kehlani Responds To Baby Daddy Rumours After Surprise Pregnancy Announcement
15 October 2018, 14:36 | Updated: 15 October 2018, 14:39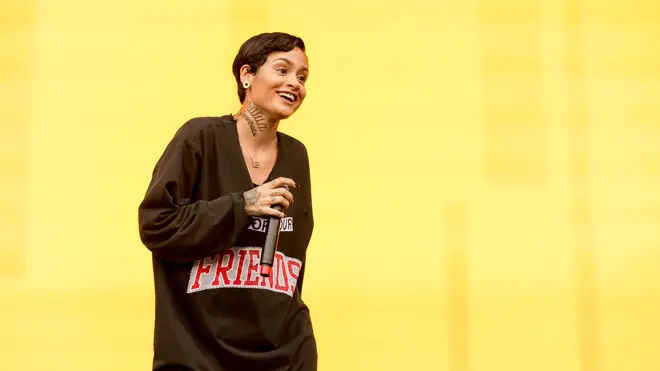 Kehlani has addressed growing baby daddy speculation around her surprise pregnancy announcement.
The 'Ring' singer surprised fans when she broke the news that she was expecting her first child.
Taking to Instagram, Kehlani revealed that she will give birth to a baby girl.
"I've always been very open with you all about my personal adventures & accomplishments... this was the HARDEST to hide," began Kehlani.
"If you know me, you know i've dreamt about motherhood since i was very young. when asked what my goals are, it's always the idea of a big healthy happy family & whatever comes along is a plus.
"I am so honored to be given this gift by spirit, creator, and an amazing partner whom i trust with my body and life. i knew sharing something so personal and precious could bring stress into my world but there isn't a word anyone would say my way that could take away from this.
"Dearest little girl, i am so proud to be your mommy. i am so proud to have received you. i cannot wait to meet you, i know you will be 50,000 times more special than i can even imagine at this moment.
"I am happy to document this journey and feel the freedom any pregnant person should. i'm looking forward to sharing my little world with you all... my partnership with my very best friend and lover, our journey of conception, my choice for a natural home birth with my AMAZING midwives at @parteramidwifery and eventually... the little pumpkin!
"I am now a HOME. 4 months and counting with you, angel of mine. SHE DONT WANNN HIDE NO MO we're so ready for you mija!"
See the post below: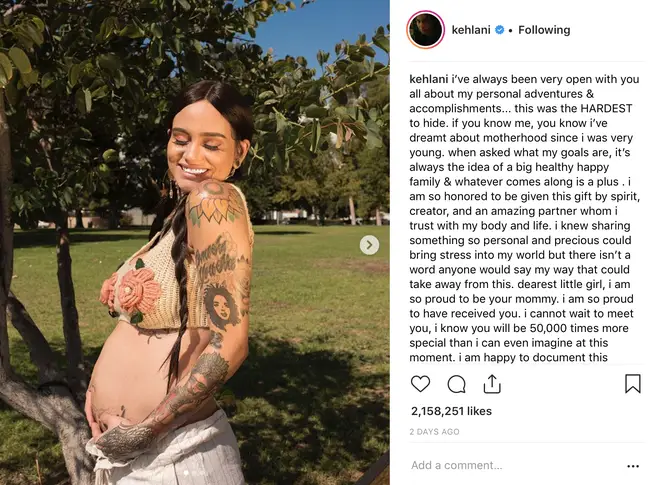 Following the huge announcement, fans were quick to speculate about the identity of the baby's father.
Kehlani has been romantically linked to PARTYNEXTDOOR and Kyrie Irving in the past.
However taking to Nicki Minaj's Queen Radio platform, she addressed the speculation.
"It was planned so we had a short timeframe of having to actually have sex every day," she said.
"And we were excited that it didn't start feeling like a chore."
"When I found out that I can get a break from touring because I've been primarily a touring artist, that's when I planned for it for this time. It was studio and pregnancy. That's been the most inspired I've ever been."
Nicki then asked about Kehlani's relationship status, as the singer previously revealed she was dating a woman.
"I started dating women before I ever dated men. Then I was lucky to find a partner who was a bisexual male.
"And he really understands my queerness and my fluidity, and I really understand his. It's very awesome to be understood."
"You are already so loving.. and so giving. you've gifted me with the realization that i was never alone. your gravitational pull pieced all of this together! the stories of how i ended up here are the warmest. you & your mother are my deepest breath. the perfect nucleus."
The rumoured father of the children, Javie, posted a message on Twitter.
i've actually been kinda itching to tweet about how me & kehlani's relationship fluctuates between being rockstars, to yogis to 15 episode a day couch potatoes then to the "ugh you get on my fuckin nerves but u mines anyway 🙄🙄😘" type ratchet & it's just too much sometimes ok

— javie (@jyoungwhite) October 13, 2018
However there is no official confirmation that he is the father of the baby.