Joe Budden speaks on "embarrassing" his kids amid T.I. "hymen-checking" controversy
14 November 2019, 13:35 | Updated: 5 February 2020, 15:09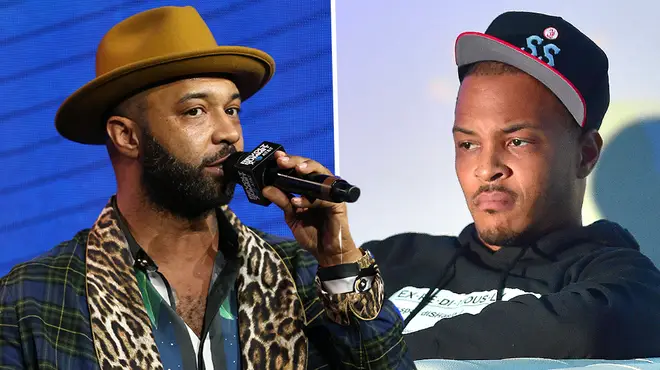 Media personality Joe Budden reveals his views on T.I taking his daughter to get her hymen checked. The rapper says he doesn't want to "embarrass" his kids.
Joe Budden is back dishing out his thoughts on all things in hip-hop culture. In his latest Joe Budden podcast, he addressed the T.I's controversial comments about his daughter's hymen.
Since the Ladies Like Us podcast, where T.I revealed that he goes to his 18 year-old daughter's gynaecology appointments to check if her hymen is still intact, the rapper has received a significant amount of backlash.
Popular media personality Joe budden has now addressed T.I's situation and has a indifferent take on the rapper's views.
While many people say T.I is "policing" a woman vagina and being "controlling and possessive" over his daugther, others believe they have no place to speak on what he chooses to do with his daughter.
On Sunday (Nov 10) Joe Budden released episode 296 of his self-titled podcast, where he and his panel discussed T.I taking his daughter to check her hymen.
The panel stayed away from addressing the daughter's body parts, however still shared their views from a parent perspective.
"That's another rule of mine. I don't tell parents how they should parent," Joe said. Mal later added that he understood what T.I. was trying to convey, that he's a overprotective father.
Mal said "I don't think he should have said this on a public platform, one," on the podcast. He continued "And two, if you and your daughter have that relationship, then I think that should be a relationship between you and your daughter."
They all agreed that T.I. sharing his daughters private information with the public about his teenage daughter wasn't a good move.
"How you maneuver as a famous parent to your of age [child], like they're 18 and they have to really go out and deal with the world, school classmates, their peers, their friends, it's important," Joe said.
T.I. and His Daughter's Doctor Visits | The Joe Budden Podcast
"I even think twice about the things I even write under my kid's Instagram because I don't know what you got going on, how you are with your friends, I don't know how they're receiving you. I don't want to embarrass you."
Joe intended to co about speaking specifically about T.I.'s relationship with Deyjah, but it seems that the team take more issue with the publicity of the situation more than the actual act.