Jennifer Lopez Threw A Star-Studded Party For Her 50th Birthday & It Looked Lit - WATCH
25 July 2019, 11:14 | Updated: 5 February 2020, 17:32
The singer was joined by the likes of DJ Khaled, Fat Joe, Ashanti and fiancé Alex Rodriquez in Miami to turn all the way up in honour of her 50th birthday.
Jennifer Lopez celebrated her 50th birthday in a big way last night, with the singer throwing a huge party in Miami with her family and friends.
The star honoured her milestone birthday by throwing a bash, sponsored and hosted by PrettyLittleThing, at Gloria and Emilio Estefan's sprawling estate on Star Island - which is right next door to Jen's ex Diddy's mansion.
The party was gold-themed and saw 250 descend on the expansive venue, including DJ Khaled, Fat Joe, Ashanti and DJ Cassidy, the latter of whom took over the decks until the early hours.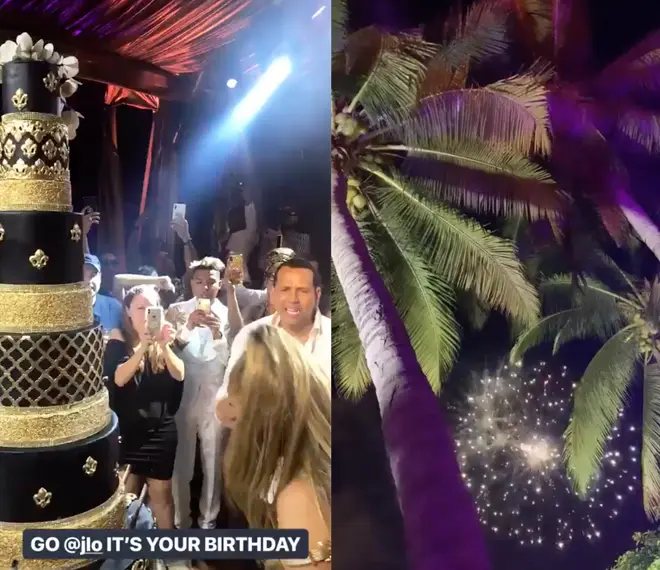 The 'Jenny From The Block' icon looked every inch the glamour queen in a sparking gold gown, her hair slicked back in a sleek half-pony, while husband Alex Rodriguez looked dapper in a black suit and tie.
During the evening, Ashanti sang alongside Fat Joe while DJ Khaled showed off his best moves on the dance floor. At one point, Jennifer was seen head-banging at the DJ booth while Fat Joe blasted his hit 'All The Way Up'.
A highlight of the night was the moment Jennifer's children, 11-year-old twins Maximillian and Emme, serenaded the singer with a birthday rap and a song.
Lopez's birthday cake was a black-and-gold multi-tiered masterpiece, and at the end of the night, fireworks were sent flying into the sky to mark the celebration.
In honour of his soon-to-be-wife's birthday, A Rod wrote a sweet post on Instagram including a video featuring clips of their family and lives together.
"It's your party, Jennifer! Thank you for inviting all of us to share this special day with you," he wrote, to which she replied, "I'm crying....I love our life...I love you so much... thank you my beautiful Macho..."