Elton John Slams New 'Lion King' Soundtrack As A "Huge Disappointment"
16 October 2019, 14:14 | Updated: 16 October 2019, 14:17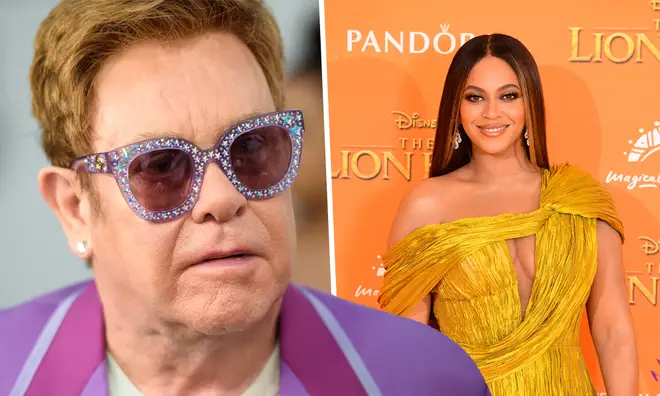 Beyoncé provided a new song for Disney's Lion King remake whilst Elton John worked heavily on the original 1994 version.
Having created iconic hits like 'Circle Of Life' and 'Can You Feel The Love Tonight' for Disney's original Lion King soundtrack back in 1994, Elton John has hit out at the new version which included original track 'Spirit' by Beyoncé.
In a new hard-hitting interview with GQ, the 'Rocket Man' singer labelled th 2019 'Lion King' soundtrack as "a huge disappointment" and stated that "the magic and joy were lost".
Speaking on his feelings about the Lion King soundtrack, Elton John said, "The new version of 'The Lion King' was a huge disappointment to me, because I believe they messed the music up. Music was so much a part of the original and the music in the current film didn't have the same impact."
He added, "The magic and joy were lost. The soundtrack hasn't had nearly the same impact in the charts that it had 25 years ago, when it was the bestselling album of the year. The new soundtrack fell out of the charts so quickly, despite the massive box-office success."
Claiming that he felt he should have been more involved in the music around the remake of the Disney classic, Elton John explained, "I wish I'd been invited to the party more, but the creative vision for the film and its music was different this time around and I wasn't really welcomed or treated with the same level of respect. That makes me extremely sad. I'm so happy that the right spirit for the music lives on with the Lion King stage musical."
Whilst she provided a song for the official soundtrack, Beyoncé also curated an alternative soundtrack called 'The Lion King: The Gift' which featured artists including Burna Boy, Tiwa Savage and Wizkid and It's unclear which soundtrack Elton John really isn't a fan of.
Whilst he wasn't happy with the songs in Disney's 'Lion King' remake, Elton John did find time to praise UK rappers Stormzy and Dave. Referencing Stormzy's Glastonbury headline set, Elton said, "He's amazing and he was terrific at Glastonbury."
He added, "It was a very hard thing for him to do, because he was the opening headline act and he was a relatively new artist and he came on and he killed it. Dave is another young artist who is full in your face, but it's lyrically exactly what's happening.
> Download Our Free App For All The Latest Music News