Ed Sheeran Finally Responds To Wiley's 'Culture Vulture' Comments
17 September 2019, 10:20 | Updated: 17 September 2019, 14:08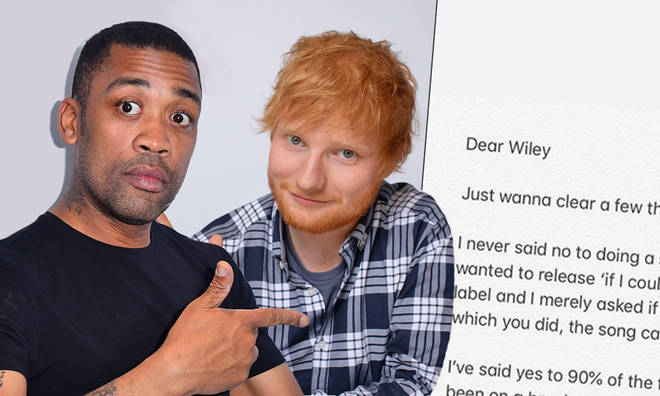 After Wiley made numerous comments about both Drake and Ed Sheeran on social media, the chart-topping star has finally responded.
Wiley is The Godfather Of Grime. No one can deny that and no one can take away the musical legacy that the East London MC has built over the years - but the 'My One' star's recent comments about Ed Sheeran and Drake have caused some controversy.
Claiming that both Ed and Drake are 'culture vultures' who use the Grime scene he helped create for their own gain whilst it's hot, Wiley was pretty brutal in his assesment of the pair's interactions with the scene.
But now Ed Sheeran has decided to directly respond to Wiley in the form of an open letter on his Instagram in an apparent attempt to defuse the situation.
Writing in his letter, Ed began by saying 'Dear Wiley, Just wanna clear a few things up'.
He goes on to say 'I never said no to doing a song for you after we made 'You' for no.5. You wanted to release 'If I Could' the same week as my debut single on a major label and I merely asked if you could move to a week before or a week after, which you did, the song came out, and I'm still very proud of it.'
He continued, 'I've said yes to 90% of the features I've been personally asked for, unless I've been on a break or haven't known the artists personally. The only time I can think of that I didn't let my name get featured on a song was on Chip's league of my own part 2, he asked me to sing backing vocals, which I did, and I didn't feel comfortable being a featured artist when I hadn't written or performed properly on the song.'
'You Need Me I Don't Need You' I wrote when I was 15, and definitely isn't about anything other than teenage angst. You know I have a deep love and respect for the scene, and for you. I look forward to 'Godfather 3', excited to hear it.'
Closing his public letter, Ed wrote, 'This is the last I'll say on this'.
Responding to Ed's reaction on Instagram, Wiley initially appeared to be dismissive of Ed's response, however he later confirmed that he would be letting the situation lie.
The East London MC still has Drake in his crosshairs however and it doesn't appear that he'll be letting that feud go any time soon.
You lot are doing it again "Famous Person speaks back to not as famous person" 😂😂 forget money and fame are you a pagan or not bro ?

— Born In January (@WileyUpdates) September 16, 2019
> Download Our Free App For All The Latest Music News!