Wiley Savagely Responds To Drake Calling Him "Goofy" Over 'Culture Vulture' Allegations
15 April 2019, 12:41 | Updated: 15 April 2019, 13:36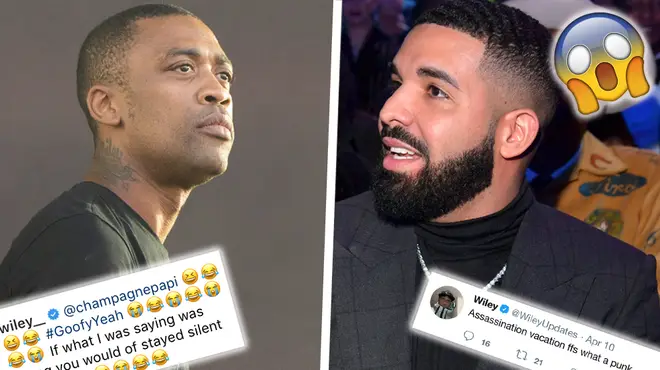 Wiley took to social media to savagely respond to Drake's calling him "Goofy", for implying that he's a culture vulture...
Since the weekend, social media has been in an absolute frenzy after the 'Godfather of Grime', Wiley, continued his beef with legendary superstar Drake. The beef intially started when Wiley took to Instagram, to take shots at Drake for inviting many U.K. artists on stage to perform on his 'Assassination Vacation Tour', other than him.
Wiley began wilding out on an expletive Twitter rant about Drake, then Drizzy caught ear of what Wiley was saying about him being a 'culture vulture'. Drake responded on a radio show, which irritated Wiley even further.
Now, he's severely coming for Drake and other U.K artists who has worked with the star.
Drake recently responded to Wiley claiming that he's a "culture vulture" during a radio show where he spoke about how his tour was going.
Drizzy took his opportunity to address Wiley's comments, explaining how he feels about people having the view that he comes and pounces on 'popping' talent in order to benefit himself.
Infact, he directly called out Wiley, after explaining why he doesn't understand people calling him a culture vulture.
The 6 God revealed "It's Wiley who said that, I will just say his name because I felt like that was some goofy sh*t" he said on the radio show.
It wasn't long before Wiley retaliated and took to social media to mock Drizzy. Wiley posted a video of himself mimicking Drake's words from the radio interview and dissed him.
Wiley also took to Twitter to address Drake saying "Assassination vacation ffs what a punk".
Assassination vacation ffs what a punk

— Wiley (@WileyUpdates) April 10, 2019
Since Wiley has responded to Drake's "goofy" comments, Drake hasn't retaliated.
During the show, Drizzy explained the reason why he hates people saying that he's a culture vulture.
"I hate that people think that me being into music from these kids that are trying to make it and trying to build a name for themselves is like 'oh that's some culture vulture…' what does that even mean? I don't understand what that means," Drizzy said on the show.
He continued "Would you rather me not acknowledge anything or support? Like that's some real like confused hater shit. But it is what it is." 
Drake always makes it known that he loves the U.K music scene. Drake revealed "I like to enjoy what's going on… I appreciate like all these young people creating all these things" during the radio show.
He continued: "It takes some real energy and synergy to create a good song. We were joking today about the comment that my boy left on the picture or whatever or on the video of me at Loski's show".
Despite the drama, Drake ended his 7 night residency in London with an absolute bang, bringing J.Cole out on stage.
While on stage, Cole revealed that he and Drake were indeed looking to release new music together. A week earlier, Drake stunned the '03' crowd when he brought J Hus onstage - who was released from prison on that day.
>
>
>