Who is Future's girlfriend Dess Dior? Instagram, age and net worth revealed
7 April 2021, 09:58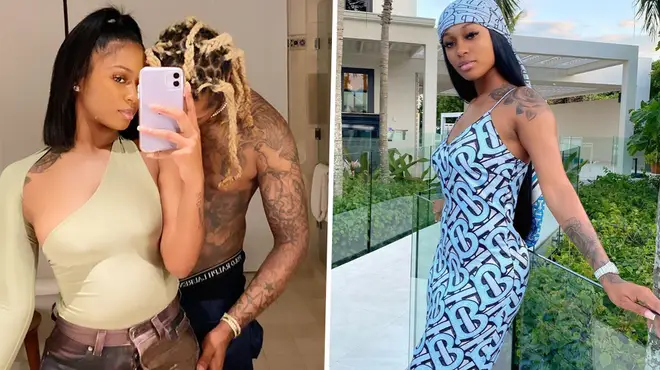 Who is Future's new girlfriend Dess Dior? Who is he dating in 2021?
Future has been dating fellow rapper Dess Dior for a few months now, following his split from model Lori Harvey in August last year.
Future and Dess have been spotted out in public together on multiple occasions, and have even featured on each other's socials. But who is Dess Dior? What does she do and how old is she?
Find out more about Future's new girlfriend below.
Are Dess Dior and Future dating?

In February 2021, a week after Valentine's Day, Future surprised Dess with an eye-watering diamond ring.

The post fuelled ongoing engagement rumours between the pair as the ring was placed on her ring finger.

In mid-November, Dess shared a photo to her Instagram story of herself and Future. Future could be seen wrapping his arms around her body as she posed for the snap.

Dess Dior shares a photo with Future wrapping his arm around her.

Picture: Instagram/@1dessdior

The 'Mask Off' rapper and Dess first sparked rumours romance after they were spotted together on her birthday in November.

In a video uploaded to social media, the rapper appeared to be in the background while Dess danced on stage.

A few weeks later, the rapstress posted a stunning photo showing off her diamond-encrusted Audemars Piguet watch, likely gifted by Future.

On Tuesday (Apr 6) Dess Dior shared a photo of herself sitting on Future's lap.

Dior captioned the photo with a line from her new track "Tenin", writing "Call my ni**a MLK cuz he believe in my dreams".

In the track, Dior raps "I just wanna hold my n*gga down till the end / I just a copped a new boutique and bought my mom a Benz / Call my n***a MLK 'cause he believed in my dreams / Thought you hoes was heatin' up I blew up off a scheme".

While some people thought the caption was cute, others were not so impressed with the use of the late activist Martin Luther King Jr's name being used in the song.

Who is Dess Dior?

Dess Dior, real name Destiny Bailey, is an American rapper, most recognised for her hits 'Stop Playin'' and 'Bandz'.

Savannah, Georgia native Dess Dior began her career on YouTube, where she first gained traction.

Dess Dior.

Picture: Instagram/ @1dessdior

Dess Dior has been rapping since the age of 12. While starting in a teen rap group, she later developed into a solo artist when she moved away from her group members.

The star relocated to Atlanta to pursue her career as an artist.

Does Dess Dior have Instagram?

Yes, Dess Dior's Instagram handle is @1dessdior.

How old is Dess Dior?

Dess Dior is 23 years old. The Atlanta star was born on November 2, 1998, and her star sign is Scorpio.

What is Dess Dior's net worth in 2021?

Dess Dior has built a fortune for herself via her rap career. Performing at concerts and doing shows, the star has taken crowds around the world by storm.

Dess Dior's net worth in 2021 is estimated to be around $5 million.

Did Dess Dior buy Future a diamond chain?

Future was in complete utter awe when Dess Dior gifted him with a sentimental diamond neck piece.

On Friday (Jan 29) Future took to his Instagram stories to show off his brand new iced out chain, his girlfriend Dess got for him.

Not only was the chain encrusted with diamond, Dess topped off the piece with a photo of Future's mother in the middle.

Dess Dior buys Future a diamond chain with a sentimental pendant.

Picture: Instagram

The rapper shared a video of the gift, writing: "Best gift ever. #BIGDESS." He also added a crying emoji.

In another post, Future shows himself wearing the chain, showing Dess he appreciates her present.

Watch the video above.

What is Dess Dior's relationship with Future's mother like?

On Tuesday (Feb 2) Dess Dior and Future celebrated his mother's birthday with an intimate get together.

Future's sister Tia took to Instagram and shared video footage and photos of their mother, including a nice message to Dess.

In one snap, Future's mother can be seen dancing to Dess Dior's song.

In another post, Tia thanked Dess for surprising her mother with a massive portrait.

"This gift was super thoughtful and she loved it," wrote Tia over a photo of her mother holding the portrait.

Dess Dior reposted the picture and added, "Awww anything for the queen." Check it out here.