DaBaby Fan Left In A Coma Following Beating After He "Asked For A Photo"
20 May 2019, 16:17 | Updated: 20 May 2019, 16:20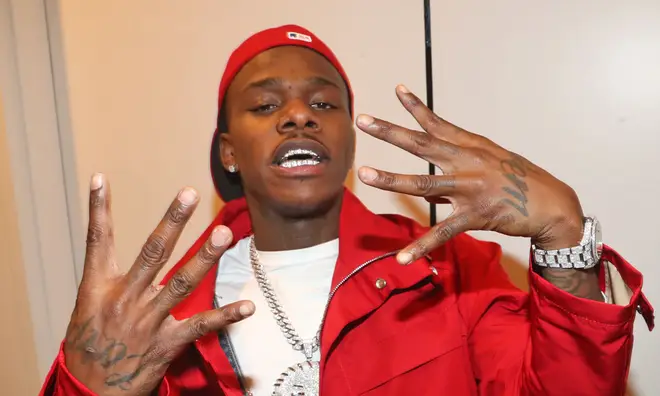 DaBaby had been set to perform when fan and fellow rapper Don Trag was caught up in a vicious beating by his security.
With his track 'Suge' becoming one of the standout rap songs of 2019, DaBaby is certainly a rapper on the rise, but he was recently caught up in an incident which has left a fan in a coma.
Having just taken to the stage before DaBaby's headline set, fellow rapper Don Trag approached the 'Suge' star, reportedly to ask for a photo and it's then that his security grabbed Don Trag and gave him a beating which was caught on camera.
It's some more to this Don Trag & DaBaby mess. Either that, or all DaBaby's security from the hood, & everyone has ptsd 🤷🏽‍♀️ Hope he comes out, though.

— SB. (@shenekabroadnax) May 20, 2019
Speaking to TMZ, Don Trag's mother claimed that DaBaby's security jumped on him as he asked to take a photo with the rapper and it was then that he was beaten. DaBaby was stood just metres away and watched on as his security punched and kicked Don Trag.
According to Don Trag's mum, the rapper was taken to hospital but later released and came straight to her house just a few hours after the beating, but whilst there he collapsed and is now in hospital in a coma.
She claimed that the family have been in touch with a lawyer, but with DaBaby's team allegedly claiming that Don Trag got aggressive and that's why they stepped in, it seems like this one could drag on for a while yet.
Don Trag previously expressed his excitement at opening for DaBaby with a post on Instagram which read, 'Friday May 17th @don_trag is opening up for @dababy at @centronightclub both the hottest n***as in the game right now gone be in the same building... pull up its gone be a movie'.
DaBaby is yet to speak out on the incident.
> Download Our Free App For All The Latest Music News!