A 'Chewbacca Mum' Drove James Corden To Work And It Was Actually Hilarious
24 May 2016, 16:19 | Updated: 24 May 2016, 16:26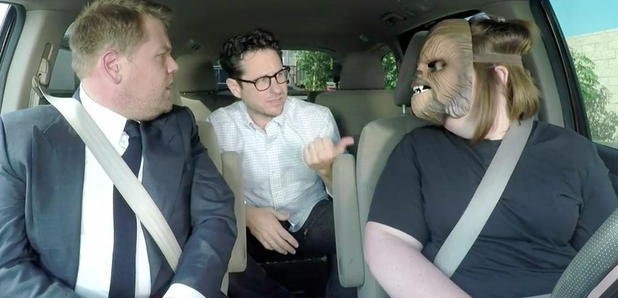 She joined Corden for a entertaining journey.
James Corden switched up the format of his usual viral Carpool Karaoke series by inviting a "Chewbacca Mom" to drive him to work.
Candace Payne, who went viral last week for wearing a Chewbacca mask and cracking up laughing, joined the chat show host for a hilarious car journey.
The pair also get a shock when Star Wars director JJ Abram pops up in the back seat of the car to offer some advice.
Watch below:

The original "Chewbacca Mom" viral sensation smashed Facebook Live records last week and currently has more than 140 million views.
It began when Payne bought the mask in a sale in Texas, tried it on and couldn't help her contagious laughter.
While interviewing Payne on his 'Late Late Show', Corden also revealed that Peter Mayhew, the actor who plays Chewbacca, has actually invited her to a VIP meet and greet in their hometown Dallas.
Meanwhile, Corden has also been busy with his usual Carpool Karaoke series, recently inviting Gwen Stefani, George Clooney and Julia Roberts into his famous car.
This followed-up previous Carpool Karaoke's with Adele, Sia, Jason Derulo and more.