Bow Wow Threatened To Leak Erica Mena's Sex Tape & Her Response Was Savage
19 November 2018, 12:36
The rapper targeted his ex-fiancé, Love & Hip-Hop star Erica Mena, after the pair clowned each other on social media. Bow threatened to leak the former couple's sex tape, resulting in Erica revealing the shocking alleged reason for their split.
Bow Wow and his ex-fiancé Erica Mena are beefing it out online - and it's getting personal.
The 'Like You' rapper kicked things off by posting a video on Instagram discussing women dating different types of men, and comparing the men to restaurant chains and food.
In response, Mena - who is known for appearing on reality TV show Love & Hip-Hop - asked people to forget that she "ever dealt with" Bow after they called off their engagement back in 2015.
Bow clapped back, sparking another bitter back-and-forth between the ex-lovers. The 31-year-old rapper rounded things off with a tweet threatening to leak an alleged sex tape involving Mena.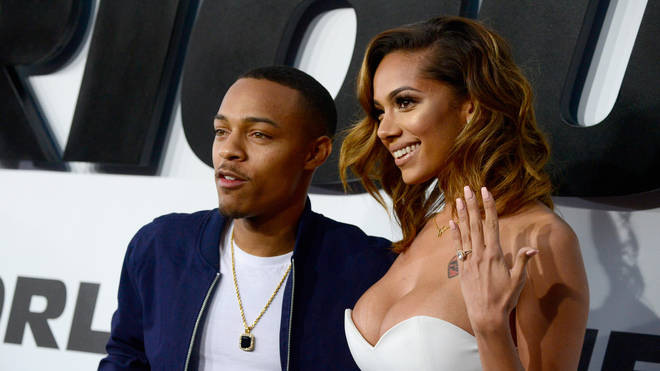 "Somebody tell Eric Mena dont make me leak the tape!" he wrote. "ERICA YOU DONT WANNA DO IT! TRUST ME I GOT YOU ON TAPE! You know i'm petty!!! I keep everything!!! Dont make me leak the tape!"
Mena, also 31, fired back by claiming that celebrity attorney Lisa Bloom, who previously presented Blac Chyna in her revenge porn case against Rob Kardashian, has already contacted her.
"Be my guest weirdo! You absolutely have nothing on me so let's go! I'm ready to ruin you any time you ready," she wrote with a smiley face.
Mema also shockingly claimed that the real reason she broke up with Bow, real name Shad Moss, was because he tried to kill himself while her son was in the house.
She made the comment while showing screenshots of an alleged text conversation with one of his friends, before making a tweet further outlining her claim.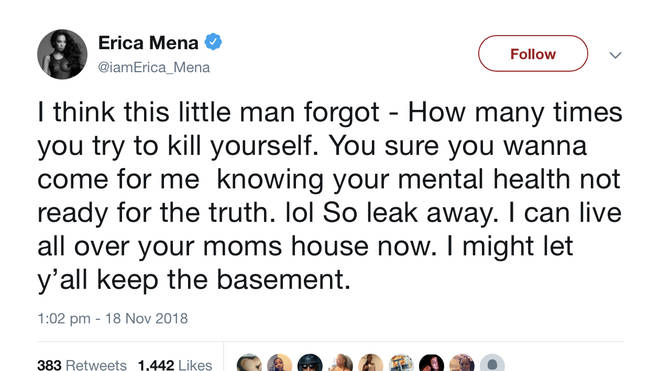 Bow Wow has since deleted the tweet and is yet to respond to Mena's accusation. The rapper has a past of posting disturbing, at times suicidal, messages on social media.