6 Films & TV Shows To Watch During Black History Month
16 October 2023, 17:13 | Updated: 26 October 2023, 16:42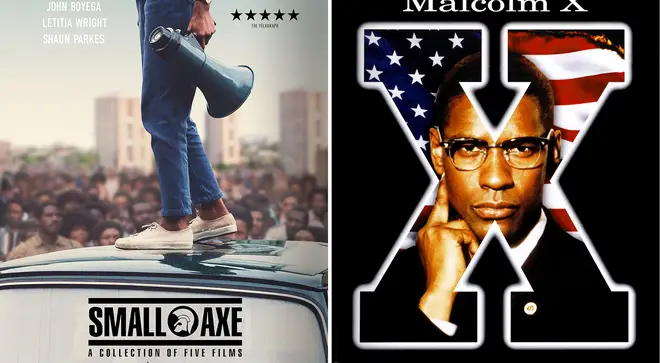 Looking for a Film or TV Show to watch during Black History Month? We've got you covered.
In the UK, Black History Month falls in the month of October, with 2023's theme titled 'Celebrating Our Sisters'.
At Capital XTRA, we endeavour to celebrate, champion and pioneer the best in Black music and popular culture.
So, we have compiled some of our favourite TV shows and Films perfect to watch any time of year, but especially during Black History Month.
Our NHS with Dr Zoe Williams

Available on ITVX

Doctor Zoe Williams, who is no stranger to television, presents this eye-opening documentary about the past 75 years of the NHS.

It features conversations with four pioneering Black doctors who have changed the world of medicine.

Malcom X (1992) - Directed by Spike Lee

Watch on Prime Video

Featuring Denzel Washington as the Black Nationalist leader Malcom X, this biopic is a must-see.

It explores all aspects of the activist's life, including his life as a petty criminal, his conversion to Islam, and his eventual assassination.

This monumental film also features performances by the likes of Angela Basset and Albert Hall, and was nominated for two Academy Awards.

Malcolm X (1992) Official Trailer - Denzel Washington Movie HD

Small Axe

Available on iPlayer

Steve McQueen directs five unique stories in this anthology series, starring the likes of John Boyega, Letitia Wright and Micheal Ward, centring around the experience of Black people in the UK.

The series is set between the 1960s to the 1980s, and are 'Love letters to black resilience and triumph in London's West Indian community.'

Steve McQueen accepts the EFA for Innovative Storytelling award for "Small Axe" during the 34th European Film Awards at Arena Treptow on December 11, 2021 in Berlin, Germany. Picture: Getty

Rocks (2019)

Watch on Netflix

Directed by Sarah Gavron, Rocks is a British coming-of-age film starring newcomers Bukky Bakray and Kosar Ali.

Praised for its authentic story and relatability about life growing up in London, it follows a teenage girl who's mum abandons her and her brother.

ROCKS Trailer (2020) Teen Drama Movie

Tangerine (2015) - Directed by Sean Baker

This 2015 experimental film shot entirely on iPhone 5S smartphones, the story follows a Black transgender sex worker who discovers her boyfriend has been cheating on her.

The film has since garnered cult status since its release, as a critic from The A.V Club saying: "Tangerine is a stylistic tour-de-force. An original, dazzling, and unforgettable portrayal of betrayal and friendship that easily bests any other film this year."

Tangerine - Red Band Trailer

Judi Love: Black, Female and Invisible

Watch on All 4

Television presenter and personality Judi Love hosts this documentary which focuses on supporting young Black schoolgirls.

She embarks on an eye-opening and emotional journey, exploring how, from health to education and work, the odds are stacked against Black women in the UK today.

One statistic shown in the film reveals that 25% more black women get jail sentences than white women for committing the same crime.

Judi Love pictured at the 2023 BAFTAs. Picture: Getty