Bhad Bhabie slams "black women" who labelled her braided hairstyle "racist"
4 December 2019, 11:27 | Updated: 16 January 2020, 16:59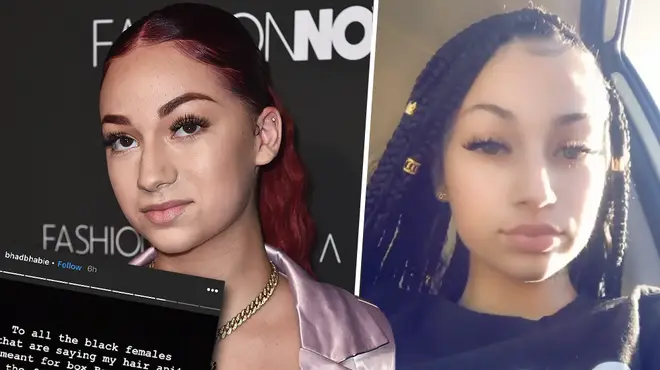 Rapper Bhad Bhabie called out "black women" after being accused of cultural appropriation over her box braids hairstyle.
Bhad Bhabie, 16, has clapped back at black women after being accused of culture misappropriation over her new box braids hairstyle.
On Tuesday (Dec 3rd) the 'Cash Me Outside' rapper posted several Instagram Stories to address the recent backlash she recieved after debuting her hairstyle on Instagram yesterday.
The social media influencer issued a statement on Instagram, criticising the black women who called her out for cultural appropriation.
Bhad Bhabie, real name Danielle Bregoli wrote 'To all the black females that are saying my hair [ain't] meant for box Braids guess the f**k what y'all hair [ain't] meant to be straight but y'all glue whole wigs on to your heads and sew brazilian/Indian/ Peruvian hair which [isn't anything] like your natural hair texture at all.
'I don't say a god damn thing neither do the other cultures that you get the hair from And on top of that I'm not one of the ppl who has ever made fun of or said anything bad about girls with box braids or any type of braids [sic].'
Bhad Bhabie, then threatened to start 'getting real disrespectful' before backtracking on her words. She attempted to clear up her comments about black women wearing straight hair.
Bhabie wrote 'First of all my comment was NOT directed towards ALL black women who wear straight hair only Towards the black women who were saying I was trying to b black bc I was wearing braids'.
She continued 'all I did was say back to them what they said to me by saying what they want to b like other cultures for wearing straight Peruvian, Indian, and other hair types,' Bhad Bhabie explained.
The "Bestie" rapper also attempted to clear up when she referred to black women as 'bald headed'.
She stated: 'And btw I didn't call black women bald headed either that was in a whole different comment that was made about all the ppl who also had something to say about me.'
What do you think of Bhad Bhabie's response to the 'culture appropriation' backlash ?