Halloween costumes 2021: Your favourite celebrities looks from this year
1 November 2021, 13:14 | Updated: 1 November 2021, 13:46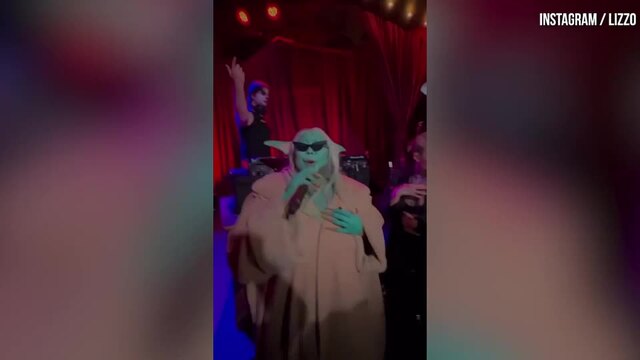 Lizzo absolutely wins at Halloween with Yoda costume
Take a look at your favourite celebrities Halloween outfits and looks for 2021!
Your favourite stars have put their all into their outfits, impressing fans with their Halloween outfits this year!
Whether celebrities are dressing up to pay tribute to other celebrities, or dressing up as a scary character, they have come to show out with their Halloween looks!
From Rihanna, Offset, Cardi B, to LeBron James and Kylie Jenner, we have put together a list of 2021's best Halloween looks!
Rihanna as Gunna

Rihanna dresses as Gunna.

Picture: Instagram/@badgalriri

Ciara as R&B group TLC

TLC - No Scrubs.

Picture: Instagram/@ciara

Ciara dressed as TLC.

Picture: Instagram/@ciara

LeBron James as Freddy Krueger

LeBron James as Freddy Krueger.

Picture: Instagram/@kingjames

Freddy Krueger – Fictional character in the A Nightmare on Elm Street film series.

Picture: Instagram/@kingjames

Saweeetie as Halle Berry in Catwoman

Halle Berry played the role of 'Catwoman' in the 2004 film.

Picture: Village Roadshow Pictures

Ciara as Selena

Selena Live Last Concert. Picture: Getty

Offset as Rick James

Rick James - American singer-songwriter, multi-instrumentalist and record producer. Picture: Getty

Latto as Mariah Carey

Latto as Mariah Carey.

Picture: Instagram/@latto777

Mariah Carey 'Rainbow' 1999 album cover.

Picture: Columbia Records

Chloe Bailey as Lola from Shark Tale

Chloe Bailey as Lola.

Picture: Instagram/@chloebailey

Lola from 2004 film 'Shark Tale'.

Picture: Instagram/@chloebailey

Lil Nas X as Harry Potter's Lord Voldemort

Lil Nas X as Lord Voldemort.

Picture: Instagram/@lilnasx

Lord Voldemort in Harry Potter - A fictional character and the main antagonist.

Picture: Instagram/@lilnasx

Cardi B as Morticia Addams fron 'The Addams Family'

Cardi B dresses as Morticia Addams.

Picture: Instagram/@iamcardib

Morticia Addams - A fictional character from The Addams Family television and film series.

Picture: YouTube

Russell Westbrook

Russell Westbrook as Chucky from 'Child's Play'.

Picture: Instagram/@russwest44

Kylie Jenner, Travis Scottt and Stormi Webster

Kylie Jenner (Cat) Travis Scott and Stormi Webster (Mermaid).

Picture: Instagram/@kyliejenner

Monica as Medusa

Monica as Medusa.

Picture: Instagram/@monicadenise

Megan Thee Stallion as Cruella de Vil from 'The Hundred and One Dalmatians'

Megan Thee Stallion as Cruella de Vil from 1996 film '101 Dalmatians'.

Picture: Instagram/@theestallion

101 Dalmatians film.

Picture: Disney

Jayda Cheaves as 'It'

Jayda Cheaves as 'It'.

Picture: Instagram/@jaydacheaves

IT - 2017 American coming-of-age supernatural horror film based on a clown character.

Picture: IMDB
Let us know who you think won @CapitalXTRA