August Alsina Responds To Jada Pinkett-Smith Cheating Allegations On Instagram
11 April 2019, 10:12
August Alsina finally speaks out following rumours of an alleged affair with actress Jada Pinkett-Smith, prompted by some of the lyrics in his remix to Kehlani's 'Nunya.'
August Alsina has addressed the ongoing rumours suggesting an alleged affair with actress Jada Pinkett-Smith.
Following the release of his remix of Kehlani's 'Nunya', listeners dissecting the lyrics and it's accompanying visual suggested that the topic of the song may have been Jada.
"You're just an actress putting on a show," he croons while as Jada herself appears on screen. The woman in the song is named 'Koren', which fans soon uncovered is also Jada's middle name.
In response to the social media storm that followed, Alsina remained silent the allegations "out of respect for Nip," before denying the rumours.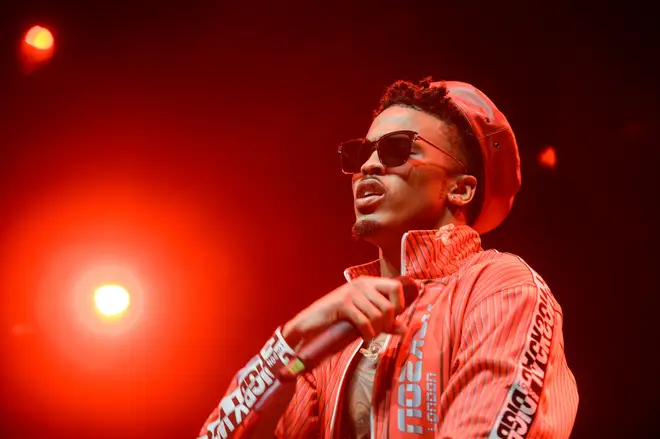 "Been quiet & still amongst all the noise last week, more so out of respect for Nip, but I've been paying attention to all the theories of conspiracy in regard to "NunYa" Remix," he wrote.
"So Here's To Clarity, The Song is not about Jada. It's simply JUST A SONG, & a free artistic expression of a made-up narrative already put in place by its ORIGINAL format.
Thank you for all of your love around the music & more is to come but please know that Me & my BEST (@jadapinkettsmith) are good!!! & We will always be, 4Life!
"We've been talking everyday while all this has taken place. Now y'all stop trippin'. lol...U know We got BiG LoVe for the Goddess over on this side."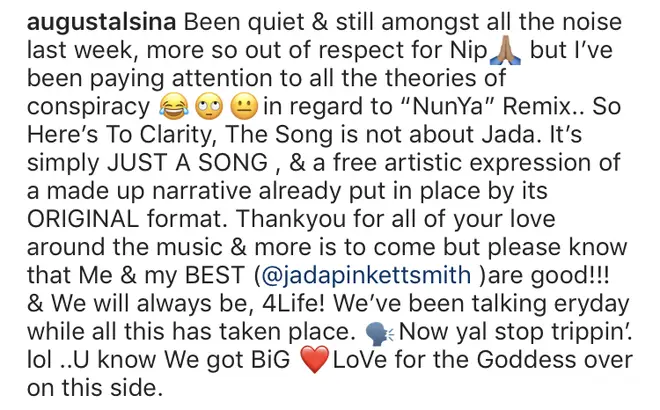 Jada is yet to speak out on the allegations denied by Alsina.