Ari Lennox claims she's quitting music after "award snub" during Twitter rant
21 November 2019, 12:54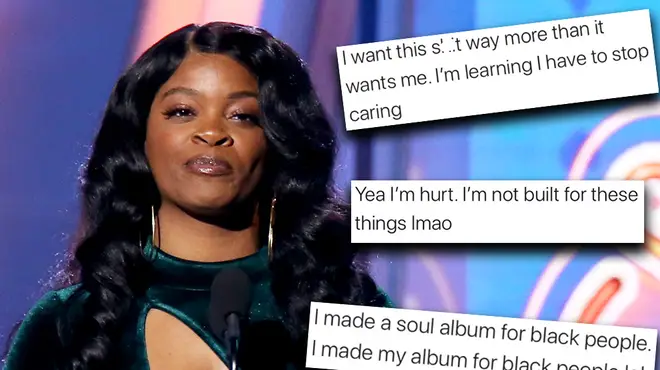 Singer Ari Lennox has taken to Twitter to let her fans know she is disappointed after not winning an award at the Soul Train Awards.
Dreamville songstress Ari Lennox has announced that she might quit music, after she felt like she was snubbed of an award at the Soul Train Awards.
After releasing her debut album Shea Butter Baby this year, she expected to win an award on the night, however she walked away with nothing.
The "Up Late" singer took to Twitter and let her fans know how disappointed she was with not receiving an award.
Although the 28-year-old singer revealed that she expects to be snubbed at award shows, she really believed Soul Train is the one award show where she thought she would be recognised.
Now that she's been rejected by them, she doesn't know what to do with herself and it looks like she may be considering a career change.
In now-deleted tweets, Ari wrote "I made a soul album for black people. I made my album for black people lol," tweeted Lennox. "I just don't understand. At all actually. But cool."
Lennox further explained why the loss mattered to her. "It's not just an award. It wasn't any award show. It was the soul train awards. As you can see I'm big fan of soul music and huge fan of soul trains history".
She added, "Being snubbed was something I always expected and was definitely prepared for just not by them."
The "Whipped Cream" singer received backlash for her tweets, after people think she shaded Lizzo as she won Album/Mixtape of the Year for her album Cuz I Love You.
However, she clarified that she was not trying to disrespect Lizzo. "My intent was to never shade other nominees. I'm hurt and I don't expect soulless haters to understand that," she explained.
She continued "Everytime I wrap my mind around it I just can't accept it. It feels like a break up. I made a soulful album. I never ran from who I am. I just expected that one platform to understand that."
What do you think ? Did Ari Lennox deserve to win the award ?