Aaliyah's Long-Awaited Wax Figure Has Finally Arrived At Madame Tussauds
22 August 2019, 16:04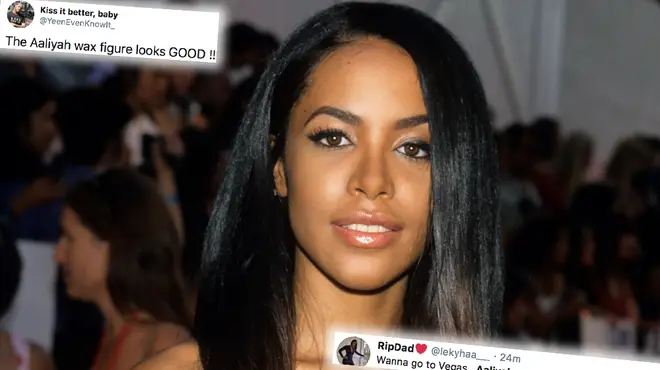 A new iconic R&B singers wax work has come to Madame Tuessaud's in Las Vegas. The highly anticipated wax figure of the late legendary singer Aaliyah has finally arrived.
On Wednesday (Aug. 21), the newest addition to Madame Tussauds family of iconic music idols has made it's debut.After such high demand, a wax figure of late legendary R&B singer Aaliyah is now open to the public at Madame Tussauds Las Vegas.
The wax figure has come nearly 18 years since the "Rock The Boat" singer tragically passed away from a flight crash. Aaliyah was just 22 years-old when she was killed in a plane crash.
According to Vibe, Adam Morey, Studios Manager at Madame Tussauds Las Vegas, revealed they first started discussing the making of an Aaliyah wax figure about a year and a half ago.
Morey is the man behind the set designs around the celebrity wax figures at Madame Tussauds Las Vegas. However, with Aaliyah's set up, he wanted it to reflect how Aaliyah actually was rather than just a pretty wax figure.
"This set, rather than being a recreation of any one particular Aaliyah moment, was instead designed with a message to her fans in mind," Morey said.
The set design specialist said "It's a message that hopefully reflects her everlasting legacy."
The new statue depicts Aaliyah straight from a frame in her 2000 "Try Again" music video, wearing her iconic signature leather pants and metallic bra, belt and choker set.
Aaliyah's fans are totally here for the new wax figure and are amazed at how similar it looks to her.
See fans reacts below.
Aaliyah's wax figure looks so good 👍 They did my girl right 👍

— Nita (@missnita) August 22, 2019
Aaliyah's wax figure is so beautiful 😍😍 They did a good job on hers ❤️

— Nai Denise (@YoursTrulyNai) August 22, 2019