A-Boogie Wit Da Hoodie Posts Emotional Message To Ex-Girlfriend Following Cheating Allegations
9 April 2019, 10:18 | Updated: 9 April 2019, 10:19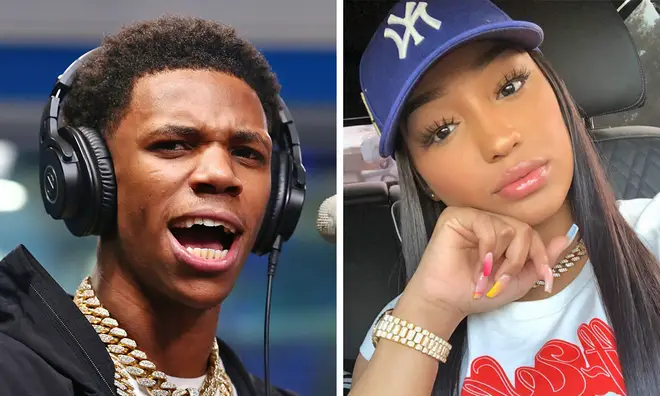 After being accused of cheating by his ex-girlfriend and baby mama Ella Rodriguez, rapper A-Boogie Wit Da Hoodie shared an emotional apology on Instagram.
A-Boogie Wit Da Hoodie has enjoyed a brilliant 2019 musically, with his chart-topping album 'Hoodie SZN' being certified Gold - but he's also gone through a relationship split after his ex-girlfriend and mother of his daughter accused him of cheating.
Now, in a recent Instagram post, A-Boogie has opened up about the cheating rumours and appeared to apologise to his Ex Ella Rodriguez, claiming 'You will always be my best friend'.
In his emotional and honest message to ex-girlfriend Ella, A-Boogie wrote 'Smh It really takes losing what you have to love and appreciate what you had. I hate to be the type to regret things but I f***ed up like crazy with you and I regret every little mistake even tho it made me open my eyes and realize what really matters to me.'
He went on to say, 'I love you no matter what and I will never disrespect you in any type of way ever again whether you accept me after all I've done or not. You are everything a man can ask for and gave me a beautiful family to love, prosper, and cherish.'
Revealing that he still loves Ella, A-Boogie added, 'I was never a outspoken person with anyone but you, my best friend. I can't even imagine starting over smh. I want you more than ever rn but I truly understand if I'm not forgiven. You will always be my best friend and true love love at heart!'
A-Boogie Wit Da Hoodie and Ella Rodriguez share daughter Melody Valentine together and the 'Swervin' rapper recently claimed Ella was stopping him seeing his daughter, somethinh she went on to deny.
Ellla is yet to respond to A-Boogie's heartfelt Instagram post or whether the pair will reunite following the cheating allegations.
> Download Our Free App For All The Latest Music News!