Who's In The Top Boy Cast? Ashley Walters, Kano and Shone Romulus Star In The Hit Netflix Show
3 September 2019, 16:13 | Updated: 17 August 2023, 12:06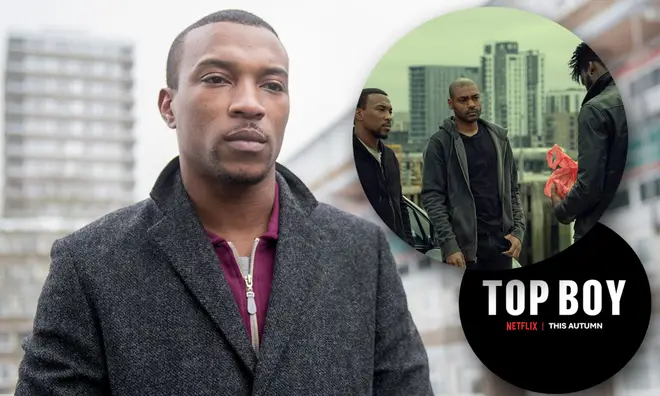 Netflix is about to launch a reboot of the hit TV series, Top Boy.
Originally aired on Channel 4, London crime drama Top Boy has been picked up by Netflix for a third season after a five-year hiatus, as Drake bought the rights to the series.
Here's who stars in season 3 of the show with Ashley Walters and Kano - and details on the new series.
Who's in the cast of Top Boy?
Ashley Walters as Dushane
Known for his roles in Speed Racer, Bullet Boy and Bulletproof, actor Ashley Walters is reprising his role as drug dealer Dushane in Top Boy.
Kane Robinson as Sully
Another original cast member to return to the show for season 3 is Kane Robinson, who plays Sully; Dushane's fellow drug dealer and occasional rival. You may also recognise Kane from Rollin' With The Nines and Tower Block.
Other confirmed cast members include Kano, Dave, Michael Ward, David Omoregie, Shone Romulus and Simbi "Little Simz" Ajikawo.
Sex Education's Kadeem Ramsay is also starring in the new series alongside Saffron Hocking from White Gold, and Black Mirror's Kola Bokinni.
What is Top Boy about?
Set in a housing estate in Hackney, London, Top Boy follows the lives of various drug gangs and the rising tension between them.
The name derives from their desire to become "top boy" when it comes to dealing drugs, with the main character Dushane fighting for position.
The debut episode of season 3 opens with Dushane (Ashley Walters) returning to London to reclaim his status as the drug gang's leader, following his exile. Sully (Kane Robsinson) also returns from prison and the pair join forces to re-establish their authority.
However, when they return home, they are met with Jamie: a ruthless young gang leader who won't go down without a fight.
When does season 3 of Top Boy drop on Netflix?
The latest instalment of Top Boy is scheduled to drop on the streaming site on Friday 13 September, 2019.
How many episodes will be in the new series?
In total, there will be 10 episodes in season 3. All ten will be available to stream on Netflix in one go, so you can binge to your heart's content.
Is there a trailer?