T.I. Believes "The Hood" Will Accept 'Rat' Tekashi 6ix9ine When He Leaves Prison
23 September 2019, 16:57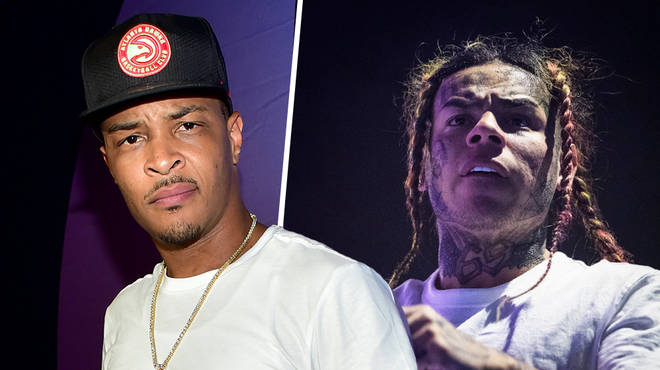 Rapper T.I reveals that he believes Tekashi 6ix9ine will be fine once he is out of prison, despite the recent backlash over his "snitching" claims.
Tekashi 6ix9ine's trial began last week (Sept 17) with the rapper exposing his former gang associates. The hip-hop community didn't take it lightly and referred to Tekashi 6ix9ine as a "snitch" - a federal informant.
Although the rainbow-coloured hair rapper has received a lot of brutal backlash for cooperating with the police, rapper T.I. doesn't think Tekashi will be in trouble when he gets out of prison.
In a recent interview with Big Boy, T.I. shared that he thinks Tekashi's sentence will be significantly reduced as he cooperate with the feds.
However, T.I has a rare take on Tekashi coming out of jail, and thinks that he'll have no problem coming home. T.I. admittedly said that there are plenty of "rats walking around right now".
Tip continued "They riding 'round with somebody they know done told in they hood right now, because, 'Well, he didn't tell on me.' This cat can come home and throw parties and the parties be popping. It be full," he said 56-minutes into the interview.
The 38 year-old rapper added "If motherf**kers don't f*ck with rats, how the hell is this party so packed? And everybody know how cous' came home. Everybody know what happened."
Tekashi revealed the details on the hierarchy, ranking and people's roles within the Nine Trey Bloods gang, during the trial. He also testified against the two alleged men responsible for his kidnapping, Anthony Ellison and Aljermiah Mack.
The "FEFE" rapper reportedly exposed details about Trippie Redd, Jim Jones and Cardi B with their gang affiliations in court.
Tekashi also confirmed that Cardi B was a Blood. Cardi has denied that she's a Nine Trey Blood, however, didn't deny that she's a blood.