Nipsey Hussle Calls Out Tekashi 6ix9ine For 'Snitching' On New Rick Ross Song - LISTEN
12 August 2019, 10:52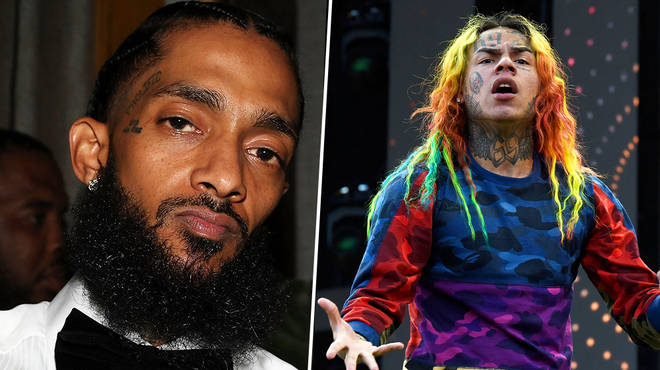 Late legendary rapper Nipsey Hussle has addressed Tekashi 6ix9ine's jail situation on new track ""Rich N***a Lifestyle", from Rick Ross' album 'Port Of Miami 2'.
Nipsey Hussle, who was fatally shot and sadly passed away on March 31 2019 has featured on a new track with Rick Ross and Teyana Taylor. The song "Rich N***a Lifestyle" hears Nipsey dissing New York rapper Tekashi 6ix9ine.
While Nipsey had no beef with 6ix9ine, Nip made it clear in interviews, that he is a man who respects street code, based on how he grew up and rules he was familiar with.
In the recently released song, Nipsey's verse was a surprise for fans. However, the late rapper shocked fans even further when he addressed Tekashi 6ix9ine's jail situation.
As part of his verse is aimed at the incarcerated rapper for cooperating with authorities in his federal racketeering case.
In the song, Nip can be heard rapping "I can't name a fake ni**a that was not exposed/How y'all ni**as so surprised that Tekashi told?" he spits. "Ain't a real street ni**a 'less you got a code."
A few weeks before Nipsey's death, the legendary rapper sat down with Big Boy and revealed his thoughts on 6ix9ine.
The "Racks In The Middle" rapper revealed "The public should not even react to clown shit," Nipsey said. He continued "The public should follow the real ni**as, if the real ni**as ain't reacting so y'all don't react."
Nipsey added "Put the dude on goofy time and just let him sit over here doing what he doing till that sh*t expire, cause it always gonna self-destruct, clearly."