Tekashi 6ix9ine Judge Makes Surprise Clothing Demands For Upcoming Trial
16 September 2019, 12:40 | Updated: 16 September 2019, 12:53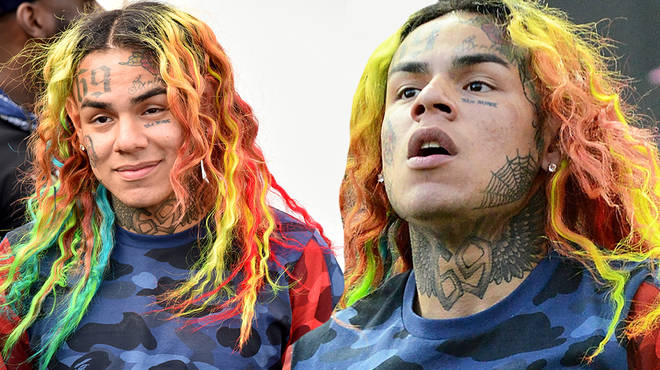 Tekashi 6ix9ine and his former gang associate Aljermiah "Nuke" Mack are set to be suited up in court. The rapper is set to testify against Nuke in their upcoming trial.
Tekashi 6ix9ine is set to receive a new wardrobe for his court trial this week, where he will testify against his gang associate Aljermiah "Nuke" Mack.
Bureau of Prisons is hooking 6ix9ine, real name Daniel Hernandez, with a new wardrobe for the trial. The 23 year-old "FEFE" rapper is set to be looking sharp in his new fresh clothes.
Mack has been indicted for drugs and perpetrating acts of violence to move up the ranks in the Nine Trey Gangsta Bloods.
Tekashi 6ixine's gang affiliate "Nuke" was hit with racketeering charges for his alleged involvement with the Nine Trey Gangsta Bloods.
Tekashi 6ix9ine's gang affiliate he is testifying against has been issued a new wardrobe ahead of his racketeering trial.
According to AllHipHop, the prison has given Mack 3 shirts, 3 ties, 3 pairs of socks, 2 blazers/sport coats, two trousers/pants, two sweaters, one pair of shoes and one belt.
Many of suspects involved with the racketeering case plead guilty, including Tekashi 6ix9ine, who cooperated with the feds.
6ix9ine's former manager Kifano "Shotti" Jordan was recently sentenced to 15 years in prison, while his former bodyguard was will be serving with five years, after he was shot during a brawl at Philippe Chow.
Mack and Harv Ellison, who is charged with abducting 6ix9ine and robbing $750,000 worth of jewels from him.
The trial will take place on September 16.