Tekashi 6ix9ine assault case dismissed as charges are dropped by alleged victim
26 November 2019, 10:08 | Updated: 26 November 2019, 10:49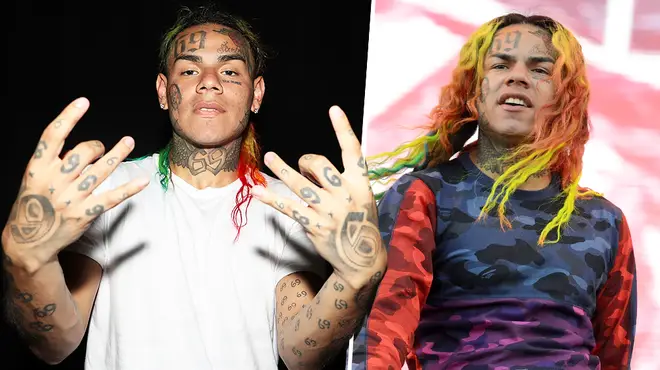 New York rapper Tekashi 6ix9ine's Houston case has been dismissed after the alleged victim decided not to press any charges.
Tekashi 6ix9ine has been let off his Houston Mall case, where he was accused of choking a man at a shopping centre.
According to TMZ, the State of Texas has filed a request to dismiss 6ix9ine's assault charges from the alleged incident at The Galleria in Houston, back in 2018.
A judge signed off on the dismissal on Monday (Nov 25). The state reportedly dropped the case due to the alleged victim, Santiago Albarran, deciding not to press any charges.
Tekashi 6ix9ine and Albarran settled their differences during a hearing in 2018, where Albarran made up with 6ix9ine and even took a picture with the "GUMMO" rapper after the court proceeding.
Texas authorities were reportedly worried that 6ix9ine cooperating with the federal authorities in his racketeering case, would pose a security risk. This was an additional reason as to why the case was dropped.
The 23-year-old rappers attorney Carl A. Moore, told TMZ that he's grateful that the case has been dropped.
"Mr. Hernandez has not been notified yet of the dismissal. We plan to notify him today," Moore said.
"I am happy the prosecutors handling this case did what was fair and just today in dismissing the charge against Mr. Hernandez. We hope that getting this case behind him will assist in him moving forward with his career."
The incident which formed the case happened in January 2018. Tekashi 6ix9ine reportedly told Albarran to stop recording him on video, when the rapper allegedly used violence to stop him from recording.
Albarran alleged that 6ix9ine grabbed him by his hoodie and choked his neck on Instagram.
"I JUST GOT CHOCKED BY TEKASHII 69 AT THE GALLERIA (Houston, TX) IN FRONT OF MY PARENTS. MY MOM, BROTHER AND DAD LITERALLY HAD TO PULL ME AWAY FROM HIM AND HIS GOONS [sic]," Albarran wrote on Instagram.
"I WAS RECORDING HIM WHEN HE DECIDED TO CHOKE ME HARD AS A HELL. If you have any vids of this please send them."
In related news, Tekashi is scheduled for a sentencing hearing for his federal racketeering case on Dec. 18.
The "FEFE" rapper plead guilty to several federal charges in January. Tekashi 6ix9ine testified against his former Nine Trey Gangsta Bloods associates, two of whom were found guilty of multiple charges in October.