Akon Praises Tekashi 6ix9ine For "Telling The Truth" Despite Snitching Criticism
6 November 2019, 16:42 | Updated: 6 November 2019, 16:50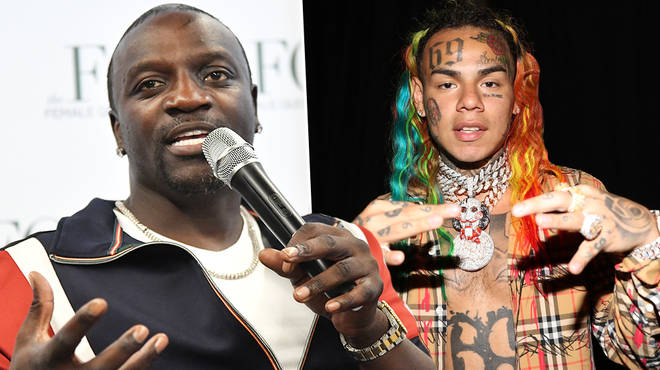 In an exclusive Capital XTRA interview, Akon reveals his stance on Tekashi 6ix9ine cooperating with the federal authorities.
Legendary Akon recently sat down with Capital Xtra's very own presenter Manny Norté to catch up on all the great things the artist has been up to.
During the interview, the "Locked Up" artist discussed his thoughts on the rainbow-hair coloured rapper Tekashi 6ix9ine.
The Bushwick rapper recently caused controversy in the hip-hop community after testifying against members from his former gang, Nine Trey Bloods.
After the "GUMMO" rapper exposed major details behind his gang operation, many hip-hop artists revealed that they no longer support 6ix9ine.
The 23 year-old rapper was labelled a "snitch9ine" after cooperating with the federal authorities.
While 50 Cent, Meek Mill, YG Snoop Dogg and many others trolled 6ix9ine for exposing his gang to the federal authorities, Akon offers a different perspective on Tekashi 6ix9ine's predicament.
When Manny Norté asked what Akon's thoughts on Tekashi 6ix9ine, the artist responded "With Tekashi it's a little different because he comes from a generation that really didn't have no moral ethic".
The "Smack That" artist went on to explain how the generation now differs from when he was growing up.
He continued "With Tekashi..I can't really speak on why he would do that, but most likely it's for the obvious reasons. But everyone goes through something in their lives that propels them to do things that they feel is in the best interest of themselves."
The 46-year-old artist added "And I think, you really can't blame him, if what he's saying is the truth."
Akon explains that he understands there's a bespoke rule to never tell on people to the police, however believes "if it's true, and he said it, then it is what it is".
Watch the full video above.