Stormzy new album 'Heavy Is The Head': songs, release date, features, tour & more
25 November 2019, 12:56 | Updated: 29 January 2020, 15:17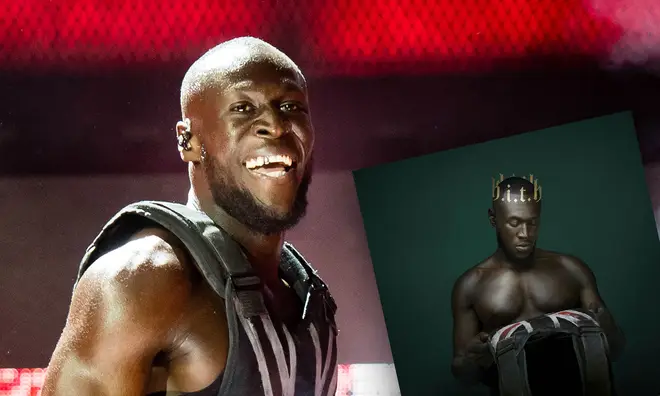 The 'Vossi Bop' rapper is releasing his second album 'Heavy Is The Head' in December 2019.
Stormzy has announced he's dropping his sophomore album 'Heavy Is The Head' before the end of the year.
Closing the decade on a high, the 26-year-old Glastonbury headliner's new record acts as the follow-up to 2017's 'Gang Signs & Prayer' and includes features from Headie One, Ed Sheehan and more.
Here's everything we know about Stormzy's new album.
What does the artwork look like?

The artwork for 'Heavy Is The Head' features Stormzy looking down at the Banksy-designed bullet-proof he wore during his 2019 Glastonbury headline set.

Picture: Stormzy/Twitter

The album artwork for 'Heavy Is The Head' sees Stormzy looking down at the bullet-proof vest he wore during his Glastonbury 2019 headline performance.

The vest features the Union Flag and was designed by elusive artist Banksy.

The initials 'h.i.t.h.' wrap themselves around Stormzy's head like a crown in reference to the album's title.

What songs are on the album?

The official tracklist for 'Heavy Is The Head' is as follows:

01. 'Big Michael'
02. 'Audacity'(feat. Headie One)
03. 'Crown'
04. 'Rainfall' (feat. Tiana Major9)
05. 'Rachael's Little Brother'
06. 'Handsome'
07. 'Do Better'
08. 'Don't Forget to Breathe' (feat. YEBBA) (Interlude)
09. 'One Second' (feat. H.E.R.)
10. 'Pop Boy' (feat. Aitch)
11. 'Own It' (feat. Ed Sheeran & Burna Boy)
12. 'Wiley Flow'
13. 'Bronze'
14. 'Superheroes'
15. 'Lessons'
16. 'Vossi Bop'

After achieving huge success with the album's breakout singles 'Vossi Bop', 'Crown' and 'Wiley Flow', Stormzy released his hotly-anticipated new collaboration with Ed Sheeran and Burna Boy, 'Own It'.

STORMZY - OWN IT (feat. ED SHEERAN & BURNA BOY)

What is the album called?

The evening before Stormzy announced his new album, the rapper left some clues around dotted around London.

The initials 'h.i.t.h..' were projected onto landmarks around the capital, in reference to the title of the record, 'Heavy Is The Head'.

This isn't the first time we've heard the phrase 'Heavy Is The Head' from Big Mike before. In his 2019 song 'Crown', which features on the album, he sings:

"I tried to be grateful and count all my blessings
But heavy is the head that wears the crown"

'Heavy Is The Head' follows 2017's 'Gang Signs & Prayer'.

When does the album drop?

Stormzy's new album 'Heavy Is The Head' drops on Friday 13th December 2019.

Which artists feature on the album?

The album features Ed Sheeran, Burna Boy, Headie One and more.

Picture: Stormzy/Twitter

After collaborating with Stormzy on their 2019 smash hit 'Take Me Back To London,' Ed Sheeran joins the rapper on the album track 'Own It', which also features the African Giant himself, Burna Boy.

Aitch links up with Big Mike again on their new song 'Pop Boy', after appearing on the remix to 'Take Me Back To London'.

Headie One features on the hotly-anticipated second track on the album, 'Audacity', while Grammy-winning songbird H.E.R. appears on 'One Second'.

East London soulstress Tiana Major9 joins the Stormzy on 'Rainfall', and gospel starlet Yebba appears on album interlude 'Don't Forget To Breathe.'