Rihanna-inspired play "racist against white people", claims angry audience member
4 December 2019, 13:40 | Updated: 4 December 2019, 13:41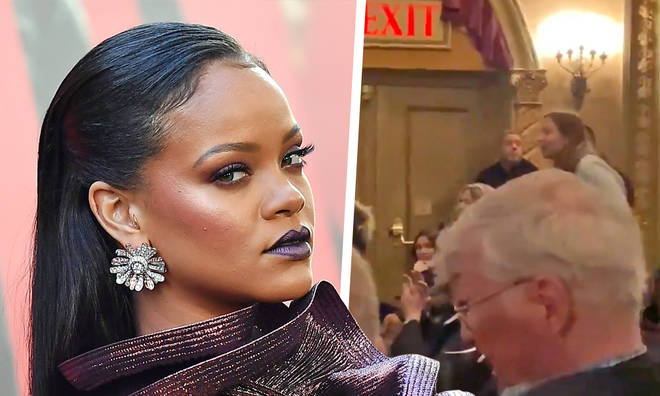 Jeremy O. Harris' Broadway production 'Slave Play' upset one audience member who shouted at the creator during a Q&A session.
During a recent Q&A session with Jeremy O. Harris, the creator of Rihanna-inspired production "Slave Play', an audience member reportedly shouted at him and claimed his creation was "racist against white people".
The play, which features Rihanna's hit song 'Work' and saw the music star attend its Broadway premiere, had already face a petition to see it cancelled shortly after it opened in October 2019.
Reports have revealed a white female audience member became upset over a line in which a black character states that her white, British partner is infected with the history of racism like a virus.
Speaking to Page Six about the incident at the Q&A, a source explained, "A woman took offence to the 'You are a virus' line in the show and during the last few minutes of the talk-back proceeded to yell that she was offended, the play was racist toward white people, and she felt marginalized as a white person."
The source went on to reveal that the paly's creator Jeremy O. Harris "very calmly tried to engage with her and then said, 'These are eight specific people onstage and aren't meant to reflect all people.'"
Harris later posted a video of the incident on his Twitter account (see below).
Rihanna's late arrival to the premiere of 'Slave Play', where she was also spotted texting during the performance, sparked headlines around the world.
Jeremy O. Harris even previously described Rihanna as the "ninth character", given the inspiration he's taken from the GRAMMY-winning artist for the production.
To dead this weird discourse that has popped up...

The patron saint of the play I wrote is literally a pop star, fashion icon, and Demi-goddess named Rihanna. Her words are all over it. She's a 9th character in the play.

When Dionysus is coming you hold the curtain. https://t.co/ocYxCjbIkU

— Jeremy O. Harris (@jeremyoharris) September 15, 2019
> Download Our Free App For All The Latest Music News!