Nicki Minaj Responds To Rumours Of A Feud With Ariana Grande
7 February 2019, 15:00
Nicki Minaj and Ariana Grande have both responded to fans feud speculations and they both agree...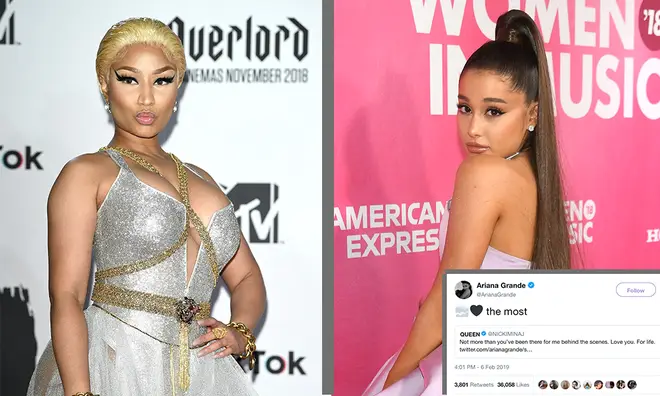 Hip-Hop sensation Nicki Minaj, 36 and Pop star Ariana Grande, 25, have previously created some of the biggest Pop songs in recent years.
The two artists come together and blend their talents in their songs "Bed", "Get On Your Knees", "Side To Side" and that is just to name a few.
Although they produce amazing hits together, the artists seem to have built a close bond outside of music. Posting each other on socials, complimenting eachother in comments and always supporting each other is something they always do.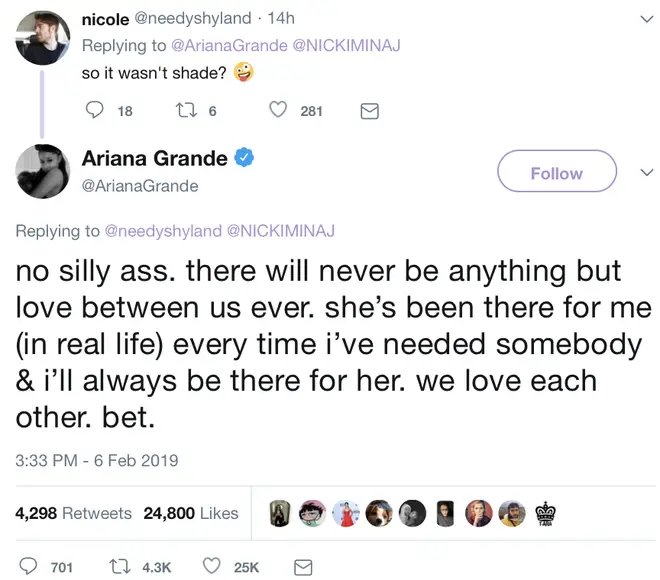 However, fans have suspected that Nicki Minaj came for Ariana in her newly dropped "Bust Down Barbiana". The Queen of Queens rapper raps a bar saying "Killing everybody beat, thank u, next Ariana.".
Ariana quickly shut down the rumours on Twitter responding to a fans comment saying "so it wasn't shade?", stating:
"there will never be anything but love between us ever."she's been there for me (in real life) every time i've needed somebody & i'll always be there for her. we love each other. bet."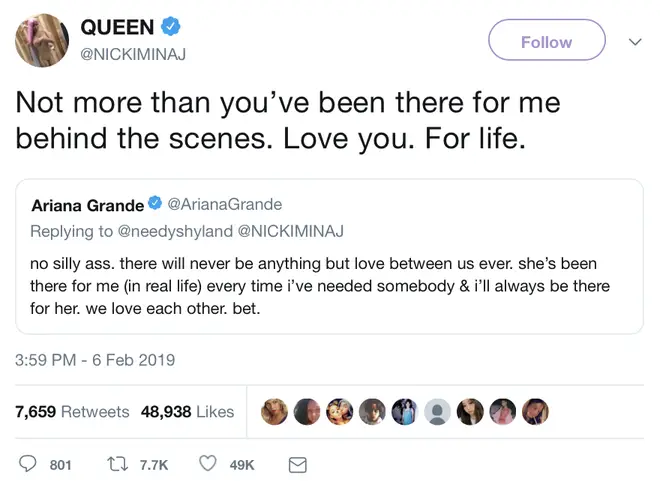 Nicki supported Ariana Grande's tweet and agreed that there is no beef between them. Infact, they exchanged their love for each other on Twitter.
The Black Barbie responded to Ariana's tweet and said: "Not more than you've been there for me behind the scenes. Love you. For life."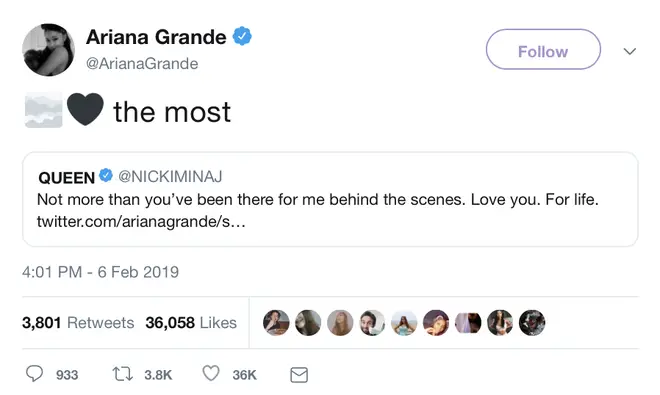 The pair's friendship famously grew after they collaborated on a number of songs together including 2014 hit Bang Bang and most recently The Light is Coming.