Nicki Minaj Responds To Heated Tekashi 6ix9ine & YG Feud
9 August 2018, 17:05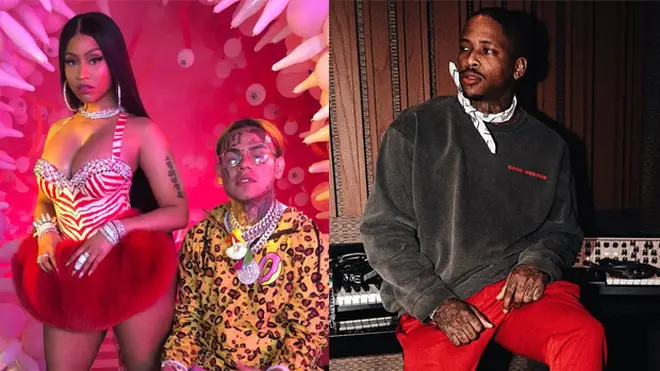 Nicki has attempted to get involved...
Nicki Minaj has responded to Tekashi 6ix9ine's heated feud with YG.
The 'Queen' rapper decided to intervene after 6ix9ine unleashed an explosive rant at Compton rapper YG over his song 'Big Bank' alongside 2 Chainz, Big Sean and herself.
Tekashi posted a video to Instagram mocking YG over the success of the song in comparison to his 'FEFE' collaboration with Nicki Minaj.
"Yo, I don't know how more disrespectful I can get," he said.
"YG, suck my f*cking d*ck, stupid! Your last single before your album came out had four major artists on it. You had 2 Chainz. You had Big Sean and you had Nicki Minaj.
"Yo bool, you're supposed to blow me out of the water. How my record doing better than your sh*t?"
YG, who furiously responded to Tekash 6ix9ine earlier this year, sent a clear response.
"Can't wait till we meet," he wrote under the video he posted on his own Instagram account.
After seeing the drama unfolding, Nicki Minaj attempted to diffuse the situation.
"I told you to chill Daniel," she said.
"You know Big Bank went GOLD b4 FEFE right babe? Stop trolling! "Both songs are [fire emoji]."
Tekashi 6ix9ine has been attempting to get a reaction from YG over recent weeks, following the release of his new album 'Stay Dangerous'.
Meanwhile, the controversial rapper also responded after Drake appeared to mock his latest single 'FEFE'.
Nicki Minaj posted a video of Drake laughing at her for featuring on the song.