Nicki Minaj fans roast Wendy Williams after she allegedly calls rapper "washed up"
12 November 2019, 12:50 | Updated: 5 October 2020, 12:37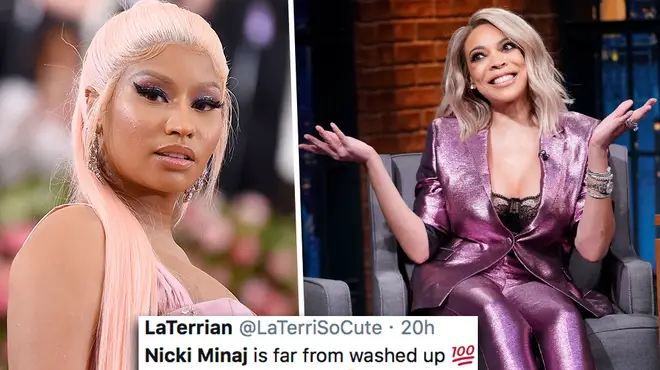 Wendy Williams has been slammed by Nicki Minaj's fans after allegedly taking subliminal shots at the rapper.
Nicki Minaj fans are convinced that Wendy Williams subliminally dissed the New York rapper on The Wendy Williams show.
Earlier today (Nov 11) Wendy Williams most recent episode from her self titled show showed her talking about a "soon to be washed up rapper" who has been talking about her.
The Barbz assumed that Wendy was taking subliminal shots at Nicki Minaj after her recent comments on Wendy, during her Queen Radio show.
Minaj began "It's not about doing your job. There are people who report the news and there are people who do it with an evil intent in their heart, viciousness."
She continued "And I pray for you because I know you're hurting and I know you must be sick and humiliated." The rapper ripped into Wendy using her estranged husband, Kevin Hunter.
"But I understand why now. When a woman isn't really being loved at home, the viciousness is a different type. So I really wanted to pray for you today, because look at where you are now in your life," Nicki added.
The 36 year-old continued to go in on Wendy saying "You're sat up there being vicious all this time, and paid for that man's mistress all these years. You paid for her shopping sprees, you paid for her hotels—b**ch, you probably even paid for her GYN bills, you paid to have that baby delivered, hoe. How you doin', stupid. Wake up, h*es."
Many of Minaj's fans slammed Wendy on Twitter. See tweets below.
Nicki Minaj is far from washed up 💯 idk what the hell Wendy Williams smoking on 😒, but that come back was weak asf nicki really embarrassed her.

— LaTerrian (@LaTerriSoCute) November 11, 2019
Wendy Williams trying to shade Nicki Minaj having the audacity of shading Nicki's body but the fact that her body shapes like letter P 🤢.

— John Aeron ❄️ (@Johnrae69) November 8, 2019