Cardi B pulls up on Nicki Minaj fan in person over song feature feud
11 November 2019, 12:28 | Updated: 11 November 2019, 12:40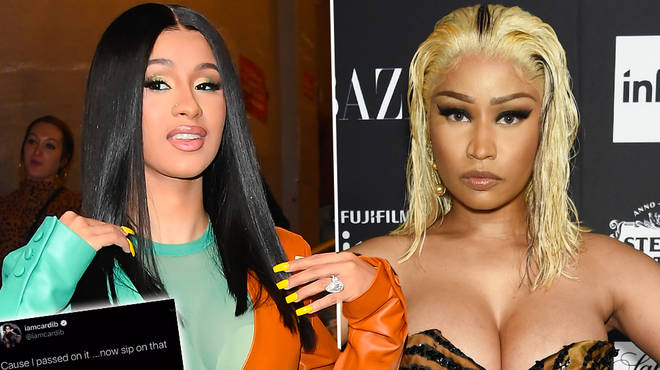 Rapstress Cardi B recently pulled up on Nicki Minaj's fan, after claiming she "passed on" Nicki's recent feature.
Cardi B recently pulled up on Nicki Minaj's fan, who defended the "Chun-li" rapper against her rival. On Thursday (Nov 7) Cardi took to Twitter to respond to fans after they mentioned Karol G's new record "Tusa" with Nicki Minaj to her.
In response, Cardi claimed that she was offered the song first and passed on it, which led to an exchange with a troll that ended up in a real-life meeting. The "I Like It" rapper wrote "I passed on it. Now sip on that," on Twitter.
A Nicki Minaj fans responded to her tweet under the username @lookdamacio. The fan responded, "Don't get beat up." (It is unclear if he was the original tweeter that prompted Cardi's initial reply because that tweet has been deleted.)
Cardi responded to the fans tweet, writing, "By who? Cause I'm 46 and 8th ave in Ny in case somebody want to see me!"
Another fan under the username @johnrockyafella replied to the "Money" rapper with a video showing that he too was at 46th and 8th.
The pair went back and forth briefly before the exchange ended with a video from Cardi B's angle in the car. In the video, the as two men blow kisses at her and exchange I love you's. One of the two men is @johnrockyafella, however, it is unclear if the other is @lookdamacio.
Another video from the viewpoint of the two men shows them saying that they're fans while Cardi responds, "I'm not about trolling. I pull the f**k up."