Nicki Minaj And Drake Reunite Following Meek Mill Feud
2 February 2017, 13:02 | Updated: 2 February 2017, 16:43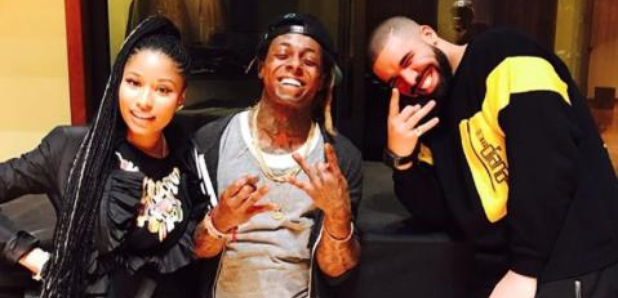 Are Drake and Nicki back on track?
Nicki Minaj shocked fans last night by posting pictures of herself with Young Money collaborators Drake and Lil Wayne.
The 'Anaconda' rapper, who is currently working on her new album, initially posted a selfie with Drake.

She then posted a picture of the three of them alongside the caption: "#TheBIG3 #YoungMoney".

Drizzy also posted the pictures soon after. While Young Money president Mack Maine, added on Instagram: "The Big 3! My family! I honestly missed this sh*t! Had to make em laugh to get that magic out! Ps Nicki take a 100 pics to get the one lol..da Queen".
This is huge news for Drake and Nicki Minaj fans, who haven't seen the pair collaborate since 2014 track 'Truffle Butter'.
Last year Drake revealed that he and Nicki Minaj stopped speaking because of her relationship with Meek Mill.
However the pair appear to have made up, much to the delight of Twitter, who slammed Meek Mill in the process.
Drake is tactician of war.

He's actually a monster looool

You can tell he is proper spiteful.

He wants to utterly Meek Mill finished.

— All New Chidz (@chidzhazenberry) 1 February 2017
Drake and Nicki are back at it, Meek Mill with another L, Beyonce pregnant with twins..2017 is officially here

— still me (@porryskips) 1 February 2017
Meek Mill has two choices, kill himself or become the thing he hates the most: Drake.
& Not 6 God Drake. Thank Me Later & Take Care Drake

— (@MrPeaceOfShit) 1 February 2017
Drake is currently in the UK on his The Boy Meets World Tour and preparing to release his new playlist project 'More Life'.
Meanwhile, Nicki Minaj recently revealed her new 'Run Up' collaboration with Major Lazer and PARTYNEXTDOOR.