Nicki Minaj Slammed After Claiming Jamaican Police Pulled Guns On Her For Swearing
11 July 2019, 11:33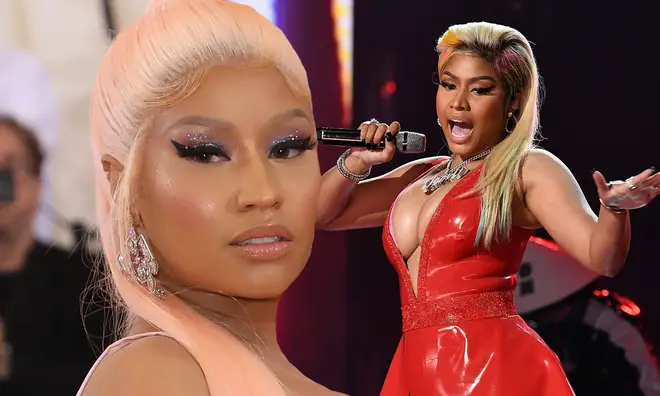 While supporting the release of A$AP Rocky, the 'MEGATRON' rapper is facing backlash for a tweet she wrote documenting a previous experience with police in Jamaica following a performance.
Nicki Minaj has taken to Twitter to clear the air after receiving backlash for a recent tweet on performing in Jamaica and women's rights.
The 'MEGATRON' rapstress recently cancelled a scheduled performance in Saudi Arabia following intense criticism from fans sharing their concerns over the country's human rights records.
After making the announcement, Nicki took to Twitter to recount an incident in Jamaica where she claims guns were pulled on her by police as a result of her cursing on stage.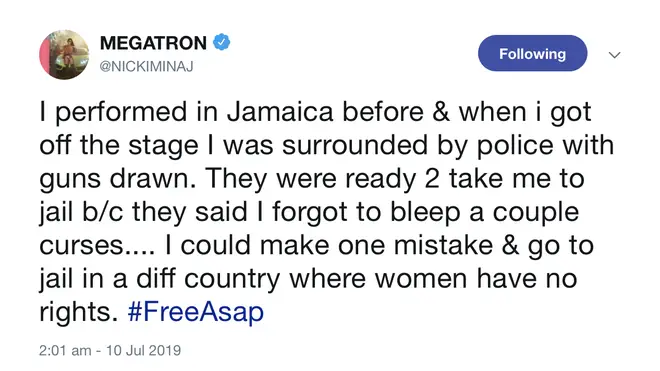 "I performed in Jamaica before & when i got off the stage I was surrounded by police with guns drawn. They were ready 2 take me to jail b/c they said I forgot to bleep a couple curses," she tweeted.
"I could make one mistake & go to jail in a diff country where women have no rights," she wrote, adding "#FreeAsap" in support of the currently jailed rapper.
However, a number of fans were left confused by Minaj's tweet. Some questioned how her incident was related to Rocky's current situation, while others criticised her for appearing to compare Jamaican government to that of Saudi Arabia.
Sis what does this have to do with ASAP ROCKY

— slayit (@kimhofpetty) July 10, 2019
This doesn't make any sense. After the Sumfest performance in 2011 where you were fined $10 USD for using expletives on stage, you tweeted "I had the time of my life at Reggae Sumfest… Jamaica I fell in love tonight."
Please do not compare Jamaica to Saudi Arabia.

— Vanessa Williams (@VirtuouzlyNessa) July 10, 2019
That @NICKIMINAJ tweet is dangerous as now, there are probably millions of people who believe women in Jamaica have no rights.

However, we lead the world in empowering women.

You are more likely to have a female boss in Jamaica than any other country.#Misleading pic.twitter.com/Mrb2B3H98w

— Robert Nesta Morgan (@NestaJA) July 10, 2019
Nicki then posted another tweet attempting to clarify her comments .The rapstress, who has claimed to have "love" for Jamaica, previously resided in Trinidad and Tobago prior to her move to New York, and was born to Trinidadian parents.
"Ummm for the ppl in the back, I wasn't saying Jamaica doesn't have women's rights," she wrote.
"I gave an example of what happened in JA to explain how easy it would be to do one thing wrong in Saudia Arabia b/c I'm not aware of every single rule & be locked up. Everyone knows I love JA. STFU."