Nicki Minaj Issues Statement On Saudi Arabia Show After Major Fan Backlash
10 July 2019, 12:44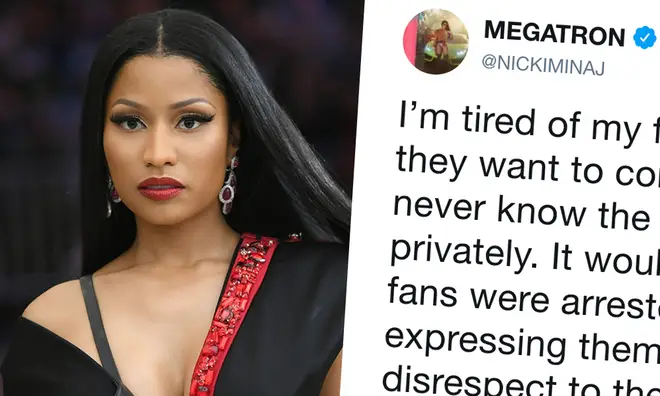 Nicki Minaj had been scheduled to perform at a show in Saudi Arabia but has now revealed her reasons for pulling out.
Nicki Minaj faced huge backlash from fans recently when it was announced that she was set to perform at Jeddah Wordl Fest in Saudi Arabia, with many fans sharing thweir concerns over the country's human rights records.
After receiving countless messages on social media questioning Nicki's decision to appear at the festival, which will also see international artists such as Liam Payne and Steve Aoki perform, Nicki issued a statement cancelleing her participation.
In an official statement, Nicki said, "After careful reflection I have decided to no longer move forward with my scheduled concert at Jeddah World Fest. While I want nothing more than to bring my show to fans in Saudi Arabia, after better educating myself on the issues, I believe it is important for me to make clear my support for the rights of women, the LGBTQ community and freedom of expression."
Nicki also asked fans for their thought on the situation both via INstagram and Twitter, with many Saudia Arabian fans sharing their dissapointment at the decision, whilst others praised her for her stance.
Latre Nicki posted tweets telling a story about performing in Jamaica and nearly being sent to prison because she forgot to censor some swear words in her songs.
I performed in Jamaica before & when i got off the stage I was surrounded by police with guns drawn. They were ready 2 take me to jail b/c they said I forgot to bleep a couple curses.... I could make one mistake & go to jail in a diff country where women have no rights. #FreeAsap

— MEGATRON (@NICKIMINAJ) July 10, 2019
Ummm for the ppl in the back, I wasn't saying Jamaica doesn't have women's rights. I gave an example of what happened in JA to explain how easy it would be to do one thing wrong in Saudia Arabia b/c I'm not aware of every single rule & be locked up. Everyone knows I love JA. STFU

— MEGATRON (@NICKIMINAJ) July 10, 2019
At the time of writing Jedda World Fest are yet to respond to Nicki Minaj's cancellation.
> Download Our Free App For All The Latest Music News!