Nicki Minaj Roasted After "Sound Fail" During Performance With Ariana Grande At Coachella
15 April 2019, 10:22 | Updated: 15 April 2019, 12:11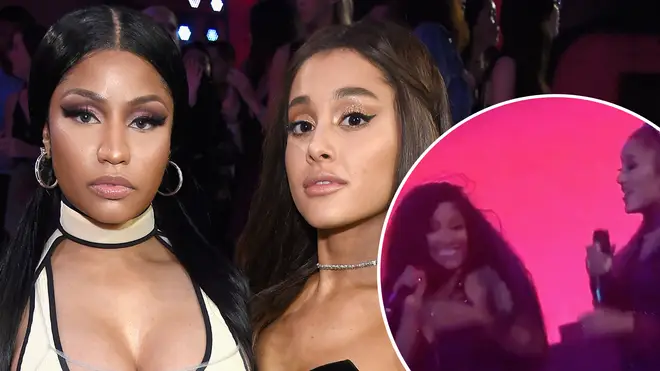 During Ariana Grande's headline set at Coachella, Nicki Minaj joined the songstress on stage before appearing to experience difficulties with sound, leaving fans furious.
Nicki Minaj appeared to be hit with technical difficulties during her performance with Ariana Grande at Coachella on Sunday evening (14th April).
The 'Good Form' rapstress joined Grande on stage during her headline slot to perform their collaborations 'Bang Bang' and 'Side To Side' as the 25-year-old pop starlet closed the festival's opening weekend.
However, fans of Minaj were left fuming as the rapper appeared to experience issues with sound mid-performance, clutching her ear and rapping out of sync.
"We can't hear anything!" Grande appeared to say as Minaj struggled to rap along to 'Bang Bang'. Fans branded the performance "a mess" while others trolled the rapstress on social media.
Nicki is yet to comment on the incident. Elsewhere during her set, Ariana bought out Diddy and Ma$e to perform 'Mo Money Mo Problems', while they also appeared to experience sound issues.
The 'God Is A Woman' songstress was also joined by NSYNC who performed their 1997 classic, 'Tearin' Up My Heart.'