Nicki Minaj Alleges Akademiks Has Romantic Feelings For Tekashi 6ix9ine In Shock DMs
11 September 2019, 12:26 | Updated: 11 September 2019, 12:38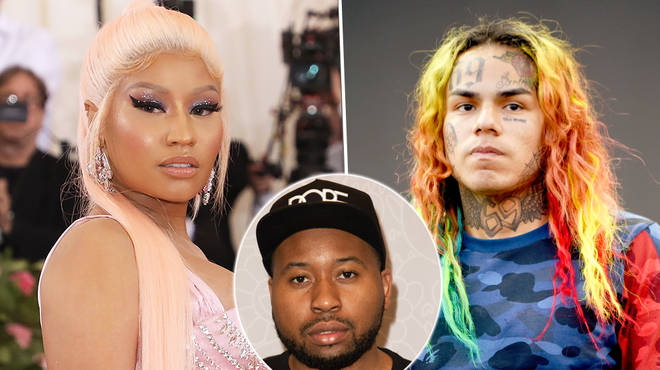 Rapper Nicki Minaj has been 'exposed' for alleging that DJ Akademiks wants to be romantically involved with Tekashi 6ix9ine. The media personality revealed his DM's with Nicki.
Media personality DJ Akademiks has exposed his DM's with Nicki Minaj, who claims that he is gay and has feelings for Tekashi 6ix9ine.
Ak recently shared DM's from his conversation with Nicki Minaj where she threatened both him and his family. Dj Ak also alleged that the rapper accused him of wanting to be romantically involved with Tekashi 6ix9ine.
Nicki allegedly threatened Ak via Instagram DM's. He read "The people you rep won't be able to stop your jaw from gettin' broken. I know too much about your family for you to be playin' with me, you hoe ass. Where you at now?'"
He claimed to have responded as follows: "Your threat is received. We'll see each other at some point. Take care, babe." "I'm glad it's received, rat," retorted Nicki. "It won't be the only thing that's received".
Earlier today, Akademiks went on Everyday Struggle and exposed DM's from Nicki Minaj. The media personality revealed that telling harsh truths about Nicki's music is what started the beef.
The social sensation continued to read other messages where Nicki accused him getting "sneak feels on [Tekashi 6ix9ine's] booty" and being sexist in his critiques.
Ak stood up to her, claiming he has no gender bias when it comes to him critiquing people.
However, Nicki ignored what he said and just asked him for his personal details so her "hubby" Kenneth Petty can speak to him.
Ak then details the 6ix9ine comments and read more DM's by Nicki Minaj where she accuses him of being homosexual and wanting Tekashi 6ix9ine.
He reads his dm's by Nicki, as allegedly written by the rapper "last time I was in the studio was 69 he told me he could tell you were really hoping he was gay in real life & that you really tried to touch him in that pool."
He continues to read the DM's stating "The reason you mad is due to me and him being close before he went to jail. I didn't mean to hang out with your "boyfriend in your head." I only meant to do a dope song."
Hopefully the pair resolve their issues and nothing transpires from this point on. Nicki maintained that Kenneth Petty wanted to get involved. However, it's best the pair leave it.