Drake Slammed After Leaked Video Of Him "Groping A 17-Year-Old Girl" Resurfaces Online
7 January 2019, 10:40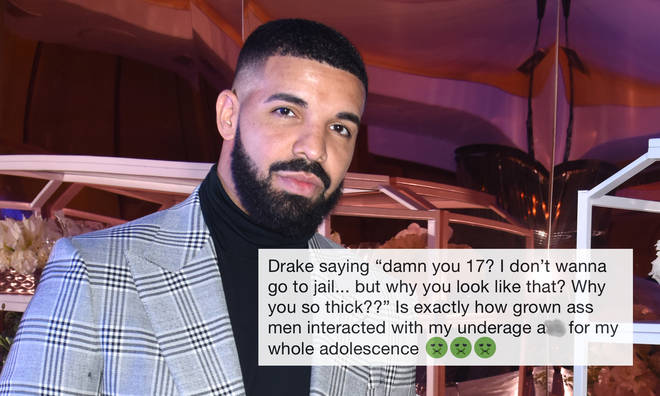 The 'In My Feelings' rapper has come under fire after footage showing him kissing and touching a 17-year-old girl on stage during a 2010 concert resurfaced online.
Drake has been criticised for inappropriately touching a teenage fan on stage during one of his concerts.
In the video, Drake can be seen kissing the girl's neck and fondling her chest in front of a live audience. "Y'all are going to have me getting carried away again, I get in trouble for s*** like this," he says to the crowd.
The 'Nonstop' rapper then asks the girl how old she is, to which she replies "17." The crowd immediately roars as Drizzy takes a step back.
"I can't go to jail yet, man!" Drake jokingly replies in the video. "Why do you look like that?! You thick. Look at all this. Well look, I had fun. I don't know whether I should feel guilty or not, but I had fun."
"I like the way your breasts feel against my chest," he adds, "I just want to thank you." He then kisses the girls hand before she leaves the stage.
According to The Sun, the footage was filmed in 2010 at the Ogden Theatre in Denver, Colorado, during one of Drizzy's concerts, where the legal age of sexual consent is 17.
The video has been strongly criticised by social media users, who have called out Drake for his inappropriate behaviour and highlighted his alleged questionable dating history.
Last year, it was rumoured that Drake was dating 18-year-old model Bella Harris, who met the rapper when she was 16. Eyebrows were also raised at his friendship with 14-year-old actress Milly Bobby Brown.
"Drake saying "damn you 17? I don't wanna go to jail... but why you look like that? Why you so thick??" Is exactly how grown a** men interacted with my underage ass for my whole adolescence," wrote one user.
"Pulling a female fan out of a crowd and then kissing her is really, really not OK to begin with. The fact that she's underage just makes it more disturbing," wrote another.
Drake is yet to comment on the incident.