Drake Is Getting Rinsed By Fans For OVO Fest "Copying" B2K's Millennium Tour
12 July 2019, 10:27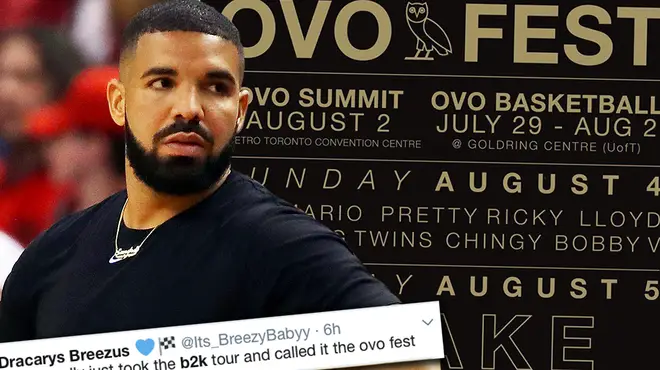 Drake has been mocked by fans after announcing his OVO Get lineup as it features many similar acts to the B2K Millennium tour.
Drake has received backlash for his ninth annual OVO Fest lineup, following his announcement on Instagram. Fans have pointed out that the artists who are set to perform, looks similar to the bill from the B2K Millennium Tour.
The artists who are performing include B2K, Mario, Pretty Ricky, Lloyd, The Ying Yang Twins, Chingy, Bobby V and, Drake is headlining Besides Champagne Papi, all of the other artists were featured on the B2K reunion tour.
Fans on Twitter have hilariously trolled Drizzy over "copying" the B2K Millennium Tour acts. One fan on Twitter wrote "So y'all mean to tell me the whole OVO fest line up is just the millennium tour line up with drake added to it?".
Another Twitter user wrote "drake really finna charge n***as triple for the EXACT SAME B2K tour from three months ago!!".
The upcoming event, where fans can buy tickets on sale from Friday, will take place on August 4-5 at the Budweiser Stage in Toronto.
Drizzy is also hosting two other activities ahead of the festival. From July 29 to August 2, the OVO Basketball tournament will be held at the Goldring Centre.
See other Twitter reactions below.
My reaction to the line up of the #OVOFest ain't this the same Line up from the millennium tour which happened 3 months ago and @B2K is on the line up. What the hell is this. Mess. (Drake is causing conflict with us B2K Stan's who just went to the millennium tour last 3 months pic.twitter.com/GiM2r59Fmu

— ♒️Sheree'Jenell Moore (@B2kFangirl) July 11, 2019