How many songs do Drake and DJ Khaled have together?
4 February 2021, 12:33 | Updated: 4 February 2021, 12:46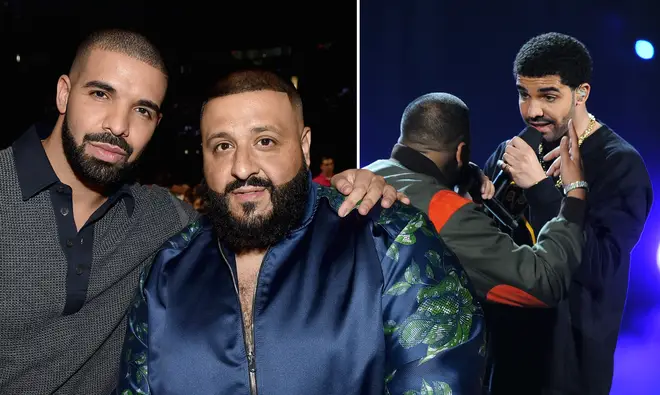 Drake and DJ Khaled have created some chart-toppers over the years. So, how many songs do they have together?
Drake and DJ Khaled are both known for churning out hits - fact. So, what happens when they join forces? Yep, even more hits.
The Canadian rapper and record producer Khaled have worked together on numerous occasions over the years, most recently on singles 'GREECE' and 'POPSTAR', which dropped in 2020.
As we eagerly await the release of Drizzy's sixth album Certified Lover Boy, which was delayed last month, let's run down some of the biggest collaborations between Drake and DJ Khaled.
'GREECE' (2020)

DJ Khaled ft. Drake - GREECE (Official Visualizer)

'GREECE' dropped at the same time as 'POPSTAR' in July 2020, both as lead singles from DJ Khaled's upcoming twelfth album, Khaled Khaled.

The track was produced by OZ, who has frequently collaborated with Drake ('Toosie Slide', 'Life Is Good', 'Sicko Mode').

The luxurious song sees Drake glide over the track with smooth, delicate vocals, crooning about taking a lover on various vacations around the world. He even briefly sings in French.

'POPSTAR' (2020)

DJ Khaled ft. Drake - POPSTAR (Official Music Video - Starring Justin Bieber)

As previously mentioned, 'POPSTAR' dropped at the same time as 'GREECE', with both expected to feature on Khaled Khaled.

'POPSTAR' is more gritty than 'GREECE' and sees Drake boast about his position in the music industry while name-dropping Scooter Braun, Rihanna, Ariana Grande, Selena Gomez, David Foster, and Justin Bieber.

Speaking of Bieber, the Changes singer stars in the music video for the song, with cameos from Braun, King Bach, Timothy DeLaGhetto, and Bieber's wife, Hailey Baldwin.

'To The Max' (2017)

DJ Khaled - To The Max Ft. Drake (Grateful)

'To The Max' dropped in 2017 and served as a promotional single from Khaled's tenth studio album, Grateful. The song was removed from the album and streaming services.

The jumpy, up-tempo song features a sample of 'Heartbroken', a 2007 song by British artists T2 and Jodie Aysha. It's thought that the song was taken off UK streaming services due to sample clearance issues.

'For Free' (2016)

DJ Khaled ft Drake - For Free (Original Audio) HQ

DJ Khaled and Drake linked up once again for the club banger 'For Free' in 2016. The single featured on Khaled's Grammy-nominated album Major Key.

During the song, Drake nods to Kendrick Lamar's 'For Free? (Interlude)', a track taken from Lamar's album To Pimp A Butterfly.

The infectious track also interpolates 'F*ck Me For Free' by Akinyele, and samples lyrics from Too Short's 'Blow the Whistle'.

'No New Friends' (2013)

DJ Khaled - No New Friends (Explicit) [Official Video]

'No New Friends' sees DJ Khaled collaborate with hip-hop heavyweights Drake, Rick Ross and Lil Wayne.

The track features production from Robert Bullock, and some of Drake's go-to beatmakers:

- Noah "40" Shebib ('One Dance', 'Nice For What', 'Take Care', 'Hold On, We're Going Home')

- Boi-1da ('Work', 'Forever', 'Controlla', 'Best I Ever Had')

- Vinylz ('Fake Love', 'The Language', '0 to 100 / The Catch Up')

'I'm On One' (2011)

DJ Khaled - I'm On One (Explicit Version) ft. Drake, Rick Ross, Lil Wayne

DJ Khaled dropped this classic as the second single from his fifth studio album, We the Best Forever.

Featuring Drake, Rick Ross and Lil Wayne once again, the trio go back to back on this instant anthem, which peaked at number ten on the Billboard Hot 100.

The song was nominated for the Best Rap/Sung Collaboration at the 2012 Grammy Awards, but lost out to Kanye West's Rihanna-assissted 'All of the Lights'.

'Fed Up' (2010)

DJ Khaled "Fed Up" ft. Usher, Young Jeezy, Drake and Rick Ross (Director's Cut) / New Album 2010

Taken from DJ Khaled's fourth album, Victory, 'Fed Up' marks the first collaboration between the producer and Drake.

Featuring another stellar lineup of artists, 'Fed Up' sees Usher, Young Jeezy, Drake and Rick Ross dance over an up-tempo, triumphant track.