Drake Has Become A Hilarious Meme After Showing His Support For Conor McGregor
8 October 2018, 12:44 | Updated: 8 October 2018, 12:46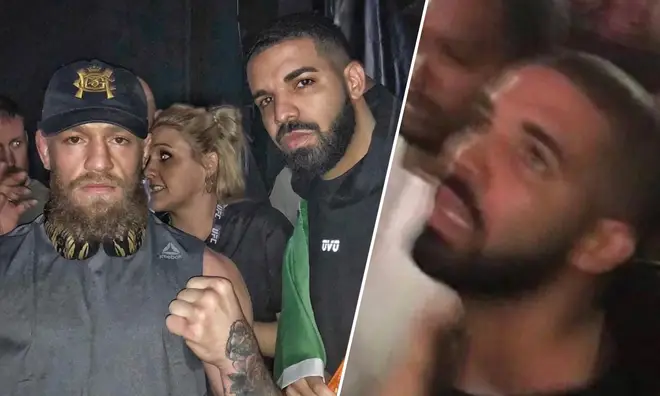 The 'In My Feelings' rapper was seen supporting Conor McGregor during his fight with Khabib Nurmagomedov at UFC 229 - which the Irish boxer lost. And, following an explosive fight, the Drake memes began rolling in.
Drake made his support for Conor McGregor very clear this weekend.
Ahead of the Irish boxer's fight with Khabib Nurmagomedov at UFC 229 on Saturday night, Drizzy could be seen parading around an Irish flag and taking pictures with McGregor during the weigh-in on Friday.
Viewers of the match will know that Khabib went on to successfully beat McGregor in Las Vegas, before jumping out of the octagon to attack a member of McGregor's team.
Conflicting footage appears to show McGregor starting a fight with the opposing team, urging Khabib to retaliate. One thing's for sure - Drake wasn't there.
The Canadian rapper was actually performing at the MGM Grand that night, but after a photo of a scared-looking Drake began making the rounds on social media after the fight, the meme makers of Twitter had a field day.
Now, it's worth noting that the photo was actually taken while Drake was attending a Travis Scott concert in 2017. And despite rumours that Drake was sitting alongside McGregor during the brawl, he was, as previously mentioned, booked and busy.
Nonetheless, here are some of the funniest memes from the post-match brawl.