Chris Brown Shows Off 100 Carat Diamond-Encrusted Ankle Monitor & Fans Are Stunned
19 July 2018, 12:03 | Updated: 19 July 2018, 12:07
Breezy is facing criticism from some fans...
Chris Brown has shocked fans by revealing a new diamond-encrusted ankle monitor.
The 'Freaky Friday' singer, who was recently arrested on tour after his Florida performance, revealed the 100 carat diamond piece on his Instagram account.
"Did the ankle bracelet… had to switch it up," he said. "House arrest monitor!"
However Chris Brown did clarify to his fans that he is not currently on house arrest.
See the bejewelled piece above.
Celebrity jeweller Elliot Avianne, who made the custom ankle monitor, said: "Since they always try to make Chris Brown a statistic, we put 100 carats on his ankle monitor as a reminder that you can turn any situation from negative to positive."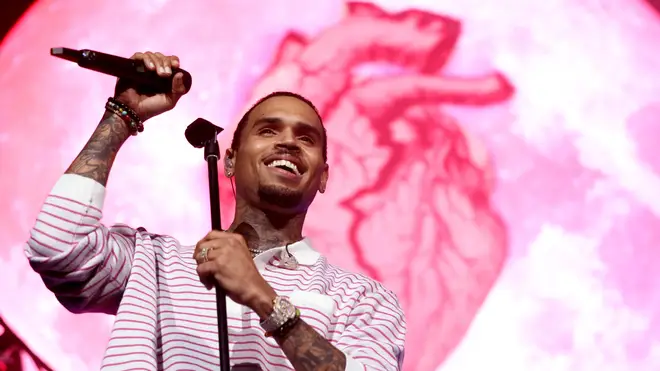 After Chris Brown showed the jewellery off to his 44.4 million Instagram followers, fans took to Twitter to express their mixed opinions.
So none of Chris Browns friends said "yo gettin an iced out ankle monitor is stupid" fareal? Cmon dog

— Sully From SQ (@SullySQ) July 19, 2018
Thought ive seen it all until chris brown got a bussdown ankle monitor 😂🤦🏻‍♂️

— Michael Whitford (@LilWhit__) July 18, 2018
Chris Brown really iced out his ankle monitor LMAO

— ❄️Playboi x Frosty❄️ (@daswaggking11) July 18, 2018
chris brown diamond out his ankle monitor. now that's a power move

— Jordan (@dotson13579) July 18, 2018
Chris Brown has a bust down ankle monitor if that isn't a new level of flex idk what is.

— BACON! (@IAMTHEBACONGOD) July 19, 2018
Chris Brown got a diamond ankle monitor 🤦🏽‍♀️ a true vanity slave like what was the reason

— Rey Del Lana (@Asivncusine) July 19, 2018
So Chris Brown has an ankle monitor, man put jewels on it. Wharrrra guy

— Skitz | B$E (@skitz18yg) July 18, 2018
Meanwhile, Chris Brown is currently touring his latest album 'Heartbreak On A Full Moon' across the US, alongside HER, 6lack and Rich The Kid.
The singer also recently teased a new collaboration with UK singer Ella Mai, following the success of her single 'Boo'd Up'.