Chris Brown 'Dying To Shoot His Shot' At Cardi B Following Offset Split
10 December 2018, 16:18 | Updated: 10 December 2018, 16:20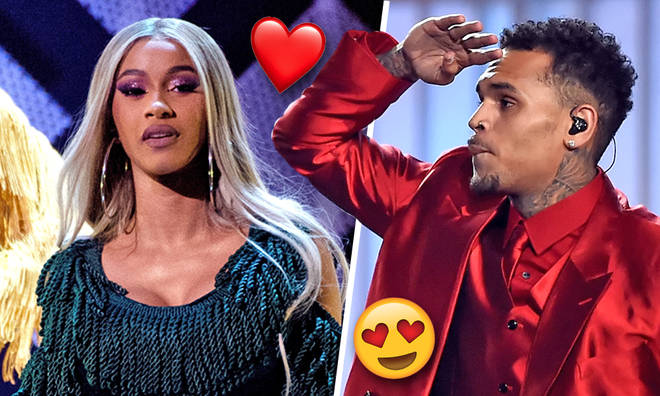 Chris Brown is desperate to date Cardi B according to an insider close to the star and he's about to try and spark a romance following her split from Offset.
Cardi B and Offset's break up was barely confirmed a week ago, but reports have claimed that Chris Brown is about to shoot his shot at the 'I Like It' rapper.
Accordoing to the reports, Chris Brown has been a secret admirer of Cardi B for a while now and following the break up of her marriage to Migos rapper Offset he's set to "let Cardi know any way he can that he's interested".
Speaking to Hollywood Life, an insider close to Chris Brown allegedly claimed, "Chris is dying to shoot his shot with Cardi, now that she is single. He's always found her sexy, and now that Offset's out of the way, Chris is ready to make Cardi his girl".
The source went on to add, "Chris loves Cardi's music, thinks she's gorgeous, sexy and talented but would never disrespect Offset by trying to hit on his wife."
Revealing exactly how Chris apparently plans to woo Cardi, the insider explained, "Now that the lane is clear, Chris will be liking some of Cardi's pics, maybe even leave a few comments and also plans to slip into her DMs. Chris wants to let Cardi know any way he can that he's interested as soon as possible".
Aside from music , the pair already have one thing in common - Chris Brown has four year old daughter Royalty whilst Cardi and Offset share daughter Kulture, who was born earlier this year in July.
Neither Cardi B nor Chris Brown have responded to the rumours so far, but if they're spotted out on a date any time soon we'll know the insider was right all along.
> Download Our Free App For All The Latest Cardi B & Chris Brown News!