People Are Convinced Cardi B Threw Shade At Nicki Minaj At The VMAs 2018
21 August 2018, 08:19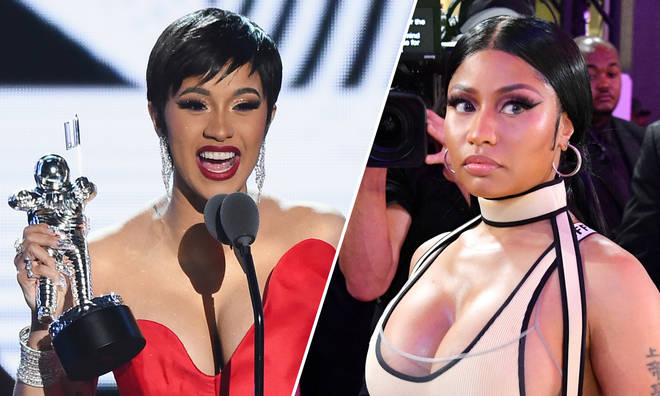 Awkward.
Cardi B stole the show at the MTV VMAs 2018.
Picking up three out of her ten nominated awards, she opened the show with a hilarious speech - and fans are convinced she was throwing shots at Nicki Minaj.
The 'I Like It' star kicked things off by gracing the stage in a red gown, clutching a bundled blanket which many assumed to be her baby daughter Kulture. Alas, it was an iconic silver 'Moon Man' Video Music Award.
After welcoming the audience to the star-studded New York venue, Cardi referred to herself as the "empress". In light of Minaj's new album 'Queen', fans thought this may have been an indirect diss at Nicki.
Later in the show, Cardi picked up the award for 'Best New Artist'. During her acceptance speech, she made another comment which many fans took as a shot towards Nicki.
"I am so happy to receive this award," she began. "A couple of months ago a lot of people were saying 'you're gambling your career, you're about to have a baby what are you doing?' I had a baby, I carried the baby and now am still winning awards."
She continued, "All of the love that fans, my friends, everybody shows me is genuine and beautiful and that's something that God gave me that you can't buy, " she projected, before adding, "b***h."
Although she didn't directly name-and-shame Minaj, many took the last line as a reference to Nicki's recent interview with Ebro. During the interview, Nicki appeared to suggest that Atlantic Records had bought Cardi her number one song.
Nicki is yet to respond.