Cardi B SLAMS Fans For Blaming Offset's Rolling Loud Incident On Her Publicist
18 December 2018, 10:35 | Updated: 18 December 2018, 10:42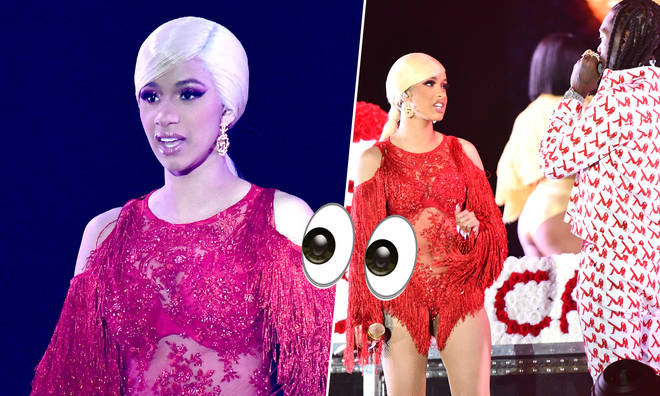 The 'Money' Rapstress has jumped to the defence of her publicist Patientce Foster, shortly after a video appearing to show her lead Offset onto the Rolling Loud stage to make his public apology leaked online.
Cardi B has blasted fans who are blaming her publicist, Patientce Foster, for Offset's infamous public apology during her Rolling Loud set.
A video appearing to show Foster leading Offset onto the stage with a bunch of flowers leaked on Twitter, leading fans to believe that the incident may have been a hoax.
"Like I said, this whole "break up" is an orchestrated publicity stunt," wrote one fan alongside the footage. So these media outlets can stop using this fake scenario to push their anti-Black "toxic masculinity" narrative."
"Her publicist was in on it with Rolling Loud. They wanna act blameless when everybody from the festival to her own camp set her the fuck up. Body language speaks volumes and she was NOT here for this," wrote another.
In response to the speculation, Cardi hit out at people slamming Foster for alleging plotting against the rapstress, writing "Fan or not you talk about my publicist/friend you can eat a d*ck PERIOD."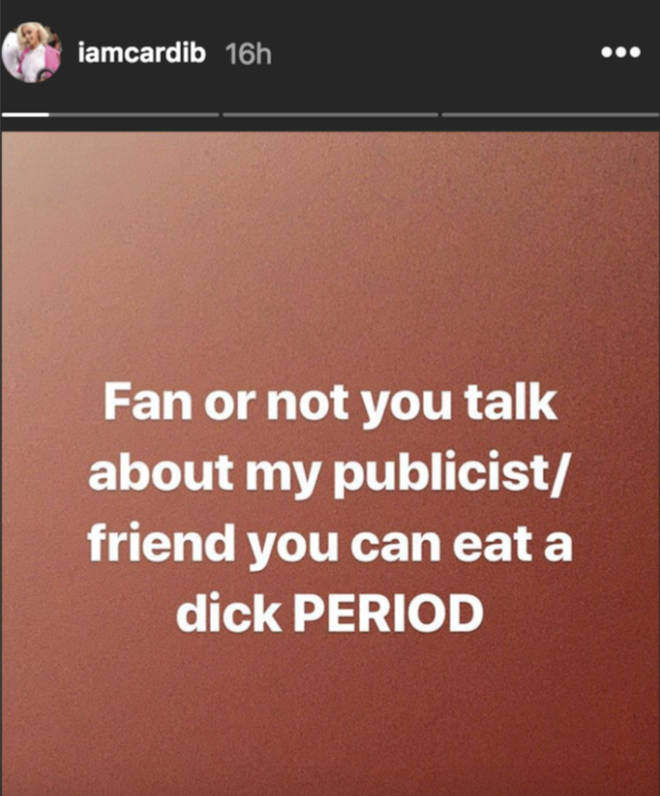 She later addressed the drama on Instagram Live and urged her fans to stop dragging Foster, who was, according to Cardi, only trying to help her friends.
"Y'all expect me to be okay with y'all dragging her because y'all don't agree with some shit?" she said. "She was trying to help a man that was telling her like, yo, I love my wife. Please help me get my wife.
"She told me what happened. I'm not gonna let y'all drag my bitch for that. Y'all buggin' and thuggin." TMZ recently reported that Patientce is like "family" to both stars.
"Patientce strongly believes Cardi is still in love with Offset and does not want to pull the plug on their marriage," a source close to the couple claims.
Following claims that the stage invasion was orchestrated by Rolling Loud themselves, the event's co-founder, Tariq Cherif, denied this.
"Headliners and their teams have full control of the stage and who is allowed on it during their set at Rolling Loud," he said.
"We were tipped off that something was going to happen, but had nothing to do with the organization or execution of it."