Cardi B says she wants husband Offset's "Grammy nominated d***" in racy comment
22 November 2019, 15:22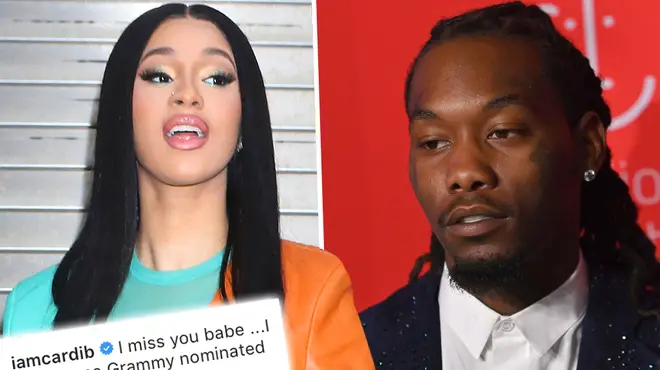 Rapstress Cardi B has left a raunchy comment underneath her husband Offset's proud "Grammy nomination" celebratory post.
Cardi B is not internet shy at all when it comes to showing her affection for her husband Offset. The "I Like It" rapstress recently took to social media to flirt with the Migos rapper.
On Thursday (Nov 21) Offset posted a video of celebratory video of himself, showing off his new Ferrari he purchased. The 27-year-old rapper revealed that due to him receiving a grammy nomination, he gifted himself a brand new luxury car.
Offset and his wife Cardi B were nominated for Best Rap Performance for their collaborative hit "Clout" at the 2019n Grammy Awards. The song came from Offset's Father of 4 release.
In the video Offset uploaded to Instagram, he can be heard saying "Grammy nominations...I nominate myself with the Rari."
Cardi couldn't help but share her thoughts underneath the post. The "Money" rapstress explicitly told Offset how the post made her feel.
She wrote "I miss you babe," wrote the rapstar before truly saying what she wants. "I want some Grammy nominated d*ck" wrote Cardi B underneath the post.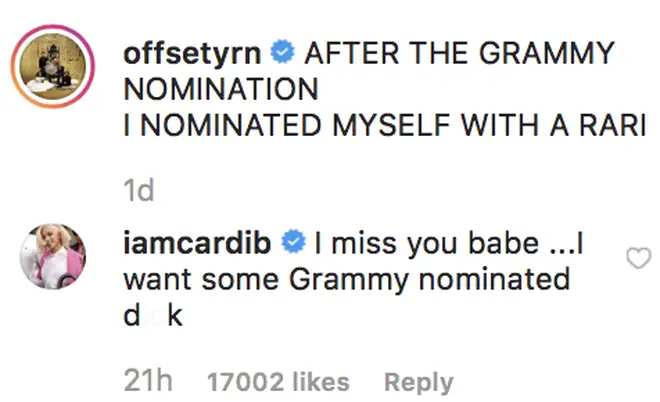 While many fans commented on her comment, saying "have more class" and "this is not cute", others encouraged her. Some fans wrote "energy" and "baddest b*tch" after seeing Cardi's comment.
What do you think about Cardi B's comment to Offset ?