Offset Reveals Details Of The "Take Me Back" On Stage Moment With Cardi B
22 March 2019, 16:26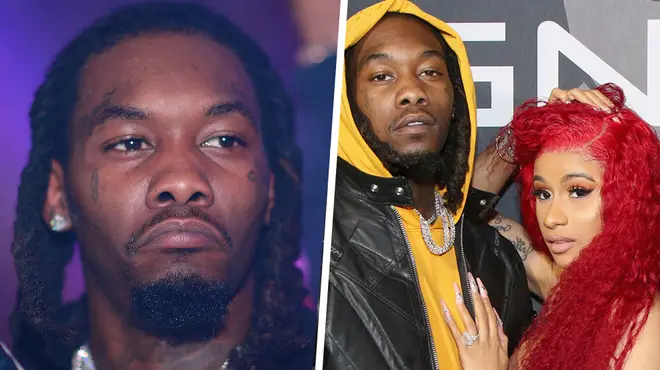 Offset speaks out about the time he surprised Cardi on stage and pleaded with her to take him back, after their break up...
Offset has been everywhere recently, promoting new album Father Of 4. The album was writted after the catastrophic car accident the Migos rapper got into. After Offset crashed his car and nearly lost his life, he recalls a moment filled of enlightenment and put that energy into writing his album.
During a recent interview on The Ellen Show, Offset discussed his accident, his album, baby Kulture and Cardi B.
The 27 year-old rapper discussed a significant moment fans were eager to know about. The infamous "take me back" moment, where Offset interrupted Cardi's stage performance with a bold gesture to take him back after he cheated on her.
Does Offset Regret Going Public with His Apologies to Cardi B?
After Cardi B broke up with Offset, he decided he would need to do something big to win her back. The "Red Room" rapper interrupted Cardi's stage show at Rolling Loud Los Angeles, with a massive surprise. Offset brought flowers along the stage that read "Take Me Back Cardi". As soon as the footage reached social media, it became trending news. Some of Cardi's fans were urging her to get back with Offset after the big gesture, other were not here for it.
Cardi B was left shocked and confused on stage while Offset pleaded to have her back.
At one point in the interview, Ellen Degeneres asks Offset how he felt about that day and he reveals that he is not afraid to show the world his love for Cardi.
During the interview, Offset states:
"I love my wife so it's serious. It's not a game to me,".
The Migos rapper added:"We have schedules and we have shows and I just felt like, if I gave a break between time, I can't give that break between time."
The rapper acknowledged the hate from Cardi's fans during the concert. Offset reveals: "It's just me being vulnerable, I guess, and it kinda bit me with the response of the people," he said. "But that's why all men don't be trying to be vulnerable. Because when you do it, it's like there's something wrong with it either way."
Offset reveals he's trying to be a better man to Cardi and a better father to his children.