Cardi B Furiously Slams Jermaine Dupri For Comparing Female Rappers To "Strippers" - WATCH
12 July 2019, 11:57 | Updated: 12 July 2019, 13:02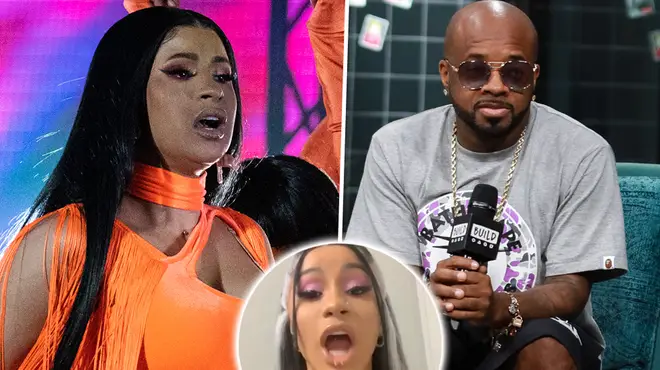 Cardi B takes to Instagram to address Jermaine Dupri's criticisms female rappers, where he compared them to strippers.
Cardi B has clapped back at Jermaine Dupri after he made a comment comparing current female rappers with strippers. During a recent interview, Dupri spoke on how he feels about the landscape of female rappers.
The hip-hop mogul stated "They all rapping about the same thing," he said. "I don't think they're showing us who is the best rapper. For me, it's like strippers rapping. As far as rap goes, I'm not getting 'who is the best rapper.'
On Thursday (Jul 11th), Dupri had an interview with People Magazine and revealed how he felt about female rappers.
He continued to back up his point, stating "I'm getting, like, you got a story about you dancing in the club, YOU got a story about you dancing in the club, you got a story…OK. Who's gonna be the rapper?"
Cardi B addressed Dupri's comments in a series of Instagram rage videos. Cardi B argued that when she tried to change her lyrical content, the people didn't seem to like it.
The "Money rapper began "First of all, I rap about my pussy because she's my best friend," she said. "And second of all, it seems like that's what people wanna hear.".
Cardi continued to explain "When I did 'Be Careful,' people was talking mad sh*t in the beginning, like, 'What the f**k is this? This is not what I expected. I expected this, I expected that.'"
She added "So it's like, if that's what people ain't tryna hear, then I'ma start rapping about my p**sy again".
In her second video, Cardi also gives props to female rappers who applauded other female rappers "who be rapping their asses off"