Cardi B Claps Back At Rapper Doja Cat For Mocking Her Bars In Resurfaced Video
9 August 2019, 10:41 | Updated: 9 August 2019, 11:27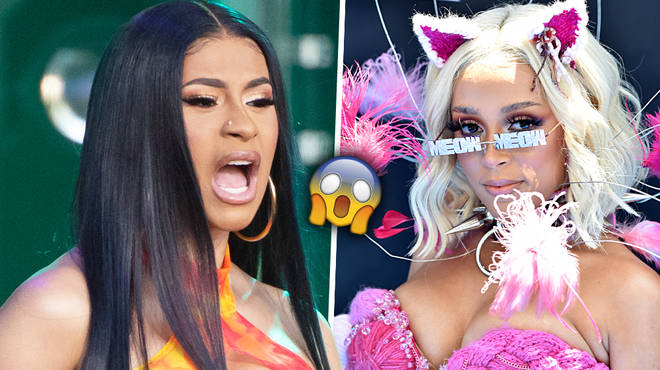 Bronx rapper Cardi B has clapped back at Doja Cat's resurfaced video mocking the rapper's song "Press". After Cardi's response, Doja took to Instagram to address the beef.
Cardi B has responded to a resurfaced Instagram Live video of rapper Doja Cat mocking and imitating her rap in the Bronx rapper's latest single "Press".
In the footage, the 23-year-old artist raps "Press" in an exaggerated low tone then bursts out laughing when reciting the chorus. Although Cardi has responded to the video, Doja Cat has something to say about Cardi's response.
At the end of the video, Cat can be heard saying ""Bruh, bruh, look. I'mma get canceled, but bro" she told the camera, as Cardi has hardcore fans.
The Instagram Live took place in early June, shortly after "Press" was released, however, DJ Akademiks reshared the clip of Doja Cat mocking Cardi B on Friday (Aug 9th). Cardi noticed the video and clapped back at the "Mooo!" rapper.

On Akademik's post, Cards commented "Do anything for clout ... Moo". Cardi used a lined from her song with her husband Offset called "Clout"; then quoted Doja's viral track.
After Cardi's response, Doja Cat posted a video of the infamous clip, then captioned it "@iamcardib @akadmiks/ but this doesn't matter because hatred is more entertaining / I make fun of everybody including myself."
In the video, Doja Cat admits that she admires Cardi B. Cat is heard saying "Not that this song isn't fire—this song is so fuego," she said. "I love Cardi B" she said in her Instagram post.