Cardi B slammed over Offset's maskless birthday party amid pandemic
16 December 2020, 14:23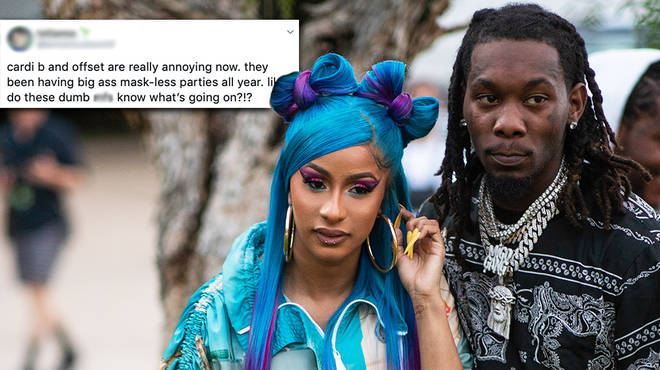 The couple have received backlash from fans after many attendees were spotted without masks.
Cardi B and Offset celebrated the Migos rapper's birthday party in style. The couple threw a huge, packed, Belly-themed birthday party with close friends, family and celebrity peers.
Despite the pair recently criticised for hosting a family gathering for Thanksgiving, it did not stop them from going ahead with Offset's 29th birthday celebrations.
Cardi B led her husband outside with his eyes covered to surprise him with a Lamborghini Aventador SVJ 63 Roadster, which is reportedly worth $600,000.
According to PageSix, the nightclub the pair went to on Monday night, appeared to lack any sort of social distancing measures.
Many fans took to social media to express their disappointment with the couple, for being maskless and throwing a huge party during a pandemic.
One Twitter user wrote "Omg I hope Coronavirus had a great time at Offset's party!" one person tweeted, with another adding "Takeoff the only one at Offset birthday party that had a mask on".
Another fan wrote "cardi b and offset are really annoying now. they been having big ass mask-less parties all year. like do these dumb mfs know what's going on?!?".
"not cardi n offset at a packed ass club with not a single mask in sight .......... what the f*ck is wrong with y'all" another user added.
Not everyone was massless during the party though. The Real Housewives of Atlanta star Porsha Williams and her squad were wearing fashionable masks.
Takeoff, a fellow Migos group member, was also spotted taking preventative measures before heading to the birthday party.
However, many fans still could not get over the fact that so many guests were maskless in the party. See other tweets below.
Y'all saw the pictures from Offset party, Atlanta really outside living their best lives. And I'm just confusion. 🤧🤧🤧

— ✨💜Tasha Perkins 💜✨ (@MISSTP2U) December 15, 2020
so was Porsha the only one at Offset party wearing a mask?

— ً (@akeemjamal) December 15, 2020